Some Nike commercials are as memorable for their camerawork, and the way they're shot, as for their celebrity stars or message of inspiration.
Guy Ritchie's stunning 2008 spot "Take It to the Next Level" immediately comes to mind. A decade later, the brand's newest effort from Wieden + Kennedy London, titled "Nothing Beats a Londoner," is likewise technically breathtaking, in part thanks to the efforts of Riff Raff directors Megaforce.
W+K has described the three-minute spot, which rolled out last Friday, as being "from London, for London." But it wouldn't have been the same without the four Frenchmen who make up Megaforce, whose long career in music videos has included work for Rihanna and Madonna.
The ad takes the viewer on a tour of the British capital. It celebrates the spirit and competitiveness of real-life Londoners by featuring 258 of them, including famous faces from music and sports like Mo Farah, Harry Kane, Dina Asher-Smith, Gareth Southgate and Skepta.
The spot weaves together a slew of different scenes by having a character from each one slip seamlessly into another, over and over. The talent narrates by talking directly to the camera, and each scene features different types of camera moves and tricks—some of them as wild as anything Nike has put on film. Furthering the playful sense of competition, even the music changes for each scene, offering everything "from a classical​ ​score to grime to a wurlitzer organ," says W+K.
Check out the results below. (The spot is heavy on the London slang. Unfortunately there are no subtitles, though they would come in handy.)
"'Nothing Beats a Londoner' champions a special, unbeatable attitude we've discovered in the U.K.'s capital," W+K London creative directors Paddy Treacy and Mark Shanley said in a statement. "The campaign is from London, for London, and celebrates the next generation of sporting stars against a city backdrop thriving with a culture of sport in every street, park and building. Despite the star cameos, the creative flips the traditional model and holds kids up as the inspiration for all—championing them, their spirit and incredible athlete mindset."
We spoke via email with the four Megaforce directors—Léo Berne, Charles Brisgand, Raphaël Rodriguez, and Clément Gallet—about their tour de force piece.
AdFreak: What did the script look like when you got it?
Megaforce: The script was a pretty long PowerPoint, full of funny images and animated gifs. It was full of London slang as well, so we spent an afternoon on Urban Dictionary to decipher.
Did you diverge from the script, or take the story in new directions?
We didn't change the original script much. It was more of an interpretation of it. In a nutshell, we came up with three main ideas. The first one was to bring each challenger into the previous scene, so each kid can react to each other in the same place. This way, we enhanced the relationship between them and the comedy. The second main idea was to have different music on each scene and to create a sort of big medley of London's sound. The third idea was to structure the film, pace-wise, in three parts, the second part being the break in the barber shop—which was another scene originally—and the third part being a crescendo with one piece of music building up to the title sequence, made with single strong shots without speech.
There is some crazy camerawork here. Do you have any favorite scenes?
We all wanted to have fresh ways of showing sport tricks. But all those tricks had to not be gratuitous. They had to illustrate and overstate the athlete's speech. That was an exciting challenge.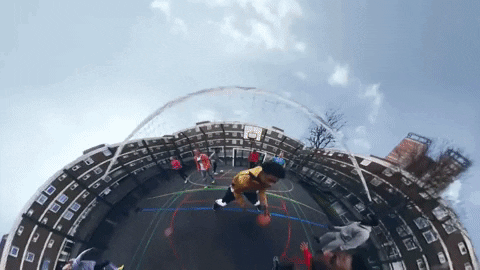 For the basketball scene, we used a 360° camera that allowed us to reframe the way we wanted in post and create some interesting distortions. It was convenient to represent how crowded is the place where he plays. For the dunk, we used three cameras to create a stereoscopic move. It was convenient to convey the feeling of hardship with all those balls around.
For the female footballer, we wanted to create a short sequence that enhances the craziness of her combo. We used a custom rig for the nutmeg with a ball and a GoPro attached to a stick. Then we used a racing drone to circle around her as fast as we can. Then the racing drone went right into the top bin and we added the ball spinning in post.
For the dancing scene in the title sequence, we had a custom rig with a GoPro attached to invisible wires. The dancer had to dance while spinning the camera around her.
The spot fits the Nike vibe in its freewheeling and fun chaos. If anything, it's more frenetic than what we usually see from Nike. Why was this the right approach for celebrating Londoners?
I don't think the editing is more hectic that any other Nike ad, but the fact that the kids are actually talking to the camera right in the middle of their struggle brings another layer of energy to the film. It's also a direct access to their personality. They all carry the film, all the emotion comes from them. Giving them a voice was the best way to celebrate them.
Britain has had a rough go lately. Does this spot rediscover pride that was always there but went missing lately?
I can't really speak for the Brits, but I feel we all need some collective hope when facing the challenges of our times.
CREDITS
Client: Nike London
Agency: Wieden + Kennedy London
Creative Directors: Paddy Treacy & Mark Shanley
Creatives: Tom Corcoran & Tom Bender
Executive Creative Directors: Tony Davidson & Iain Tait
Group Account Director: Ryan Fisher
Account Director: Sophy Woltman
Account Manager: Holly Baker-Cliff
Planning Director: Paula Bloodworth
Head of Production/Exec Producer: James Guy
TV Producer: Michelle Brough
TV Production Assistant: Rose Fairley
Production Company: Riff Raff
Director: Megaforce
Executive Producer: Matthew Fone
Line Producer: Nick Goldsmith
Director of Photography: Nicolas Loir
Editorial Company: Final Cut
Editor: Joe Guest
VFX Company: Time Based Arts
VFX Supervisor: Francois Roisin & Sheldon Gardner
Telecine Artist: Simone Grattarola
Sound Company: 750MPH
Sound Designer: Sam Ashwell
Producer: Mary-Ann D'Cruz
Music Supervisor: John Connon
Music Company: Mr Pape
Social Creative: Joe Bruce
Social Producer: Tom Dean
Social Production Assistant: Jasper Ford
Director: Finn Keenan
Producer: Ash Lockmun
Director of Photography: Julian Baschieri / Finn Keenan
VFX Company: Time Based Arts
VFX Supervisor: James Allen
---
The Fans. The Brands. Social Good. The Future of Sports. Don't miss the upcoming Brandweek Sports Marketing Summit and Upfronts, a live virtual experience on Nov. 16-19. Early-bird passes available until Oct. 26. Register now.