Kickstarter is an incredible micro-funding site for artists, writers, musicians and even inventors.  With an easy-to-use platform and good-looking widgets, it's easy to spread the word about your project across your social media sites.  But when it comes to projects that need tens of thousands of dollars or more to get off the ground, timing is everything.  Here are three lessons learned from recent projects that really show how powerful the tool can be:
1.  Tie in with current events like…Dovetail: Voice to the People
Project creator Kevin Vogeltanz is a lawyer in New Orleans who studies the intersection of law and tech, especially where  privacy, copyrights, and social media are concerned.   His open software project, Dovetail uses the momentum of recent headlines to launch a project that could help make a difference in the world.*
"Dovetail is a direct response to the real-world crackdowns on digital communication we've seen this year in Egypt, London, and San Francisco.  In each case, government (and complicit cell companies) censored digital speech by shutting down the cell and Internet grids, or by gathering a person's private cell data after the fact," writes the Dovetail team.
The app would connect people who are standing physically near each other, like at a rally, using the wi-fi transmitters that are already built into their phones.  (For more information on how this works, refer to the project page.)
*It's important to note that Kickstarter is not a place for non-profits.  In this case the app is free, but the organization that's making it, Dovetail Project, LLC, is not technically a charity.
2. Be persistent like…The Social Media Monthly
The print – that's right, print – magazine devoted to social media hit the newsstands at Barnes and Noble stores across the country on August 16th, 2011.   Founder Bob Fine tried, unsuccessfully, to use Kickstarter to fund the magazine's October 2011 issue.  This time around, he's offering signed and numbered copies of the lovely cover art as an incentive to make a donation.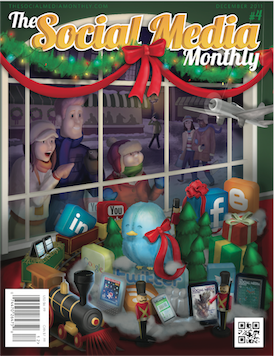 3.  Have an impressive prototype like…Twine
Designer-engineers David Carr and John Kestner have raised $555,411 from 3,966 backers for a pocket-sized device that hooks up your home appliances to the Web.  Twine will work with Twitter, email and other software to let you know when your laundry is done or your basement is flooded.  In addition to being spot-on for usefulness, the prototype for the pocket-sized device looks almost huggable.  The project page included plenty of technical specs and a great video to show potential backers how it works.