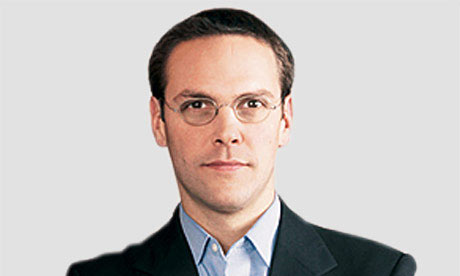 This scandal just keeps getting bigger and bigger. The latest: According to Reuters, two former News International employees have accused James Murdoch of lying in his testimony to Parliament. Colin Myler, a former editor at News of The World, and Tom Crone, a former lawyer for News International, issued the following statement:
Just by way of clarification relating to Tuesday's CMS Select Committee hearing, we would like to point out that James Murdoch's recollection of what he was told when agreeing to settle the Gordon Taylor litigation was mistaken.

In fact, we did inform him of the 'for Neville' email which had been produced to us by Gordon Taylor's lawyers.
The Guardian, on which email Myler and Crone are referring to:
The Neville referred to in the statement is Neville Thurlbeck, the paper's former chief reporter. In 2009, documents passed to the culture committee revealed that he read transcripts of 35 hacked telephone messages between Gordon Taylor and Jo Armstrong, a legal advisor at the PFA [a soccer players union].

They were sent in an email to the private investigator Glenn Mulcaire by an unnamed junior reporter on the paper on 29 June 2005. In the email, the reporter says 'Hello, this is the transcript for Neville'
This is an important email because it implied that Thurlbeck was implicated in wrongdoing at the News of the World, which means that News International's official position at the time – that hacking was only conducted by one reporter – wasn't true.
James Murdoch, in his testimony, said he was unaware of these emails, and News Corp. has now issued a statement that Murdoch "stands by his testimony." He is being summoned back to Parliament to explain the comments by Myler and Crone.
The countdown until Rupert Murdoch sacrifices his own son to save News Corp. has officially begun.