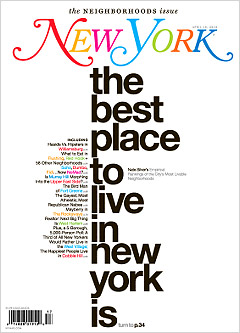 In the latest issue of min, the best and worst selling magazines of 2010 are listed. This New York cover from April of last year was the magazine's best seller, while its worst was actually a pretty interesting one: The Curse of Spider-Man from November.
For Time, people apparently love Facebook but can do without young Republicans (see – it's not just us), as its best seller featured Mark Zuckerberg, it's worst Rand Paul.
Newsweek must be read by a bunch of people who aren't particularly worried about saving the planet, because no one bought the October issue about radical ways to be more Earth-conscious. However, Finns must love their Newsweek, because its best seller featured the best countries to live in – with Finland grabbing the top spot.
So if you ever go to Finland, start every conversation with "Oletko lukenut uusimman Newsweek?" That's Finnish for "Have you read the latest Newsweek?"
You're welcome.