Six months after the Stop Online Piracy Act (SOPA) was shelved, a new petition strongly advocating "a free and open Internet" is making the rounds online.
The Declaration of Internet Freedom was released Monday and is a reminder that those who opposed SOPA and its sister bill, the Protect IP Act (PIPA), have not forgotten about these laws and in fact, are more than willing to fight against them.
The petition's preamble reads:
We believe that a free and open Internet can bring about a better world. To keep the Internet free and open, we call on communities, industries and countries to recognize these principles. We believe that they will help to bring about more creativity, more innovation and more open societies.
Spearheaded by FreePress.net, the petition is not only open to feedback, but is actively seeking it. The declaration is listed on platforms such as reddit, Techdirt, Cheezburger and Github, where you can "interact" with the text and make your opinions and alterations known.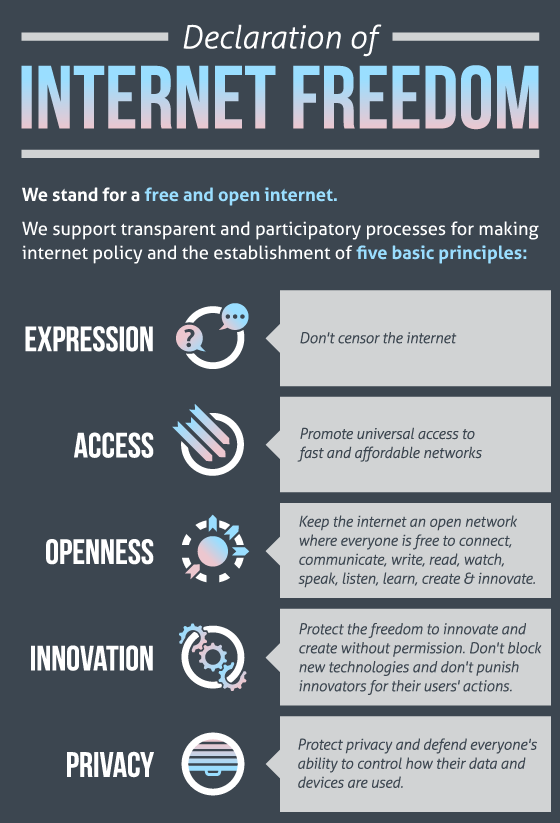 In an interview with Mashable, FreePress.net's internet campaign director Josh Levy said, "For now, we're urging people to sign on to this document and interact with it — remix it, fork it, change it." The goal, Levy said, was to "have a public discussion on what the open Internet means."
The petition has already been signed by the likes of Ben Huh of Cheezburger, Mark Surman of Mozilla, Jillian C. York of the Electronic Frontier Foundation, and many other individuals and organizations.
Interested in signing? You can check out the latest version of the petition at http://www.internetdeclaration.org.