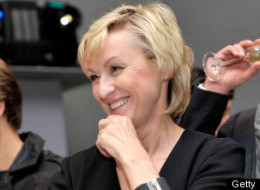 FishbowlNY really doesn't know what's left to say about Tina Brown, but for some reason, magazines keep publishing gigantic pieces about her. The newest one comes from Vogue. In this piece, Brown's career is likened to a meteor, we find out that she works hard (shocking!) and she still doesn't quite grasp electronic mail:
'I'm the kind of person who hits REPLY ALL when it's really private and meant for one person. That's the worst thing. I recently did that and wrote an e-mail to someone I work with, and I said, 'Oh, my God, he's such a sleazeball, we really have to keep our distance.' And I sent it to the guy I was talking about! And he wrote back, 'I think you will have no trouble keeping your distance from me.'
There's also some stuff about her husband and her daughter. Go ahead and read it if you're into that sort of thing.