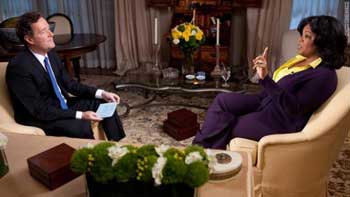 Last night Piers Morgan began the difficult task of taking over for Larry King, and judging by the reaction of New York's media, he had a pretty terrible start. The most common complaint was that Oprah was a bad choice for his first guest, followed closely by Morgan being too nice to her. Let's put aside for one minute the fact that no one is – and ever will be – mean to Oprah, and just focus on what they're missing: Morgan made a huge splash in his first night, and that's all that matters.
Alessandra Stanley in the New York Times lead the charge against selecting Oprah, insisting that we all simply know too much about her for the interview to be entertaining. Stanley explained, "Ms. Winfrey was an obvious choice as a first guest, but not a shrewd one. American audiences have seen an awful lot of Ms. Winfrey on television lately."
David Hinckley of the Daily News, while at least giving Morgan some credit for being more prepared than King ever was, felt that Morgan chose the wrong guest for his debut as well.
Then there was Chris Rovzar of New York magazine, who thought Morgan's flattery was just insane, as if Morgan was the first person to ever praise Oprah:
His giggling style might have come across as charming in the studio on his own turf, or in an interview with someone less intimidating. Here it made him seem sycophantic and almost childish. When he reached out to her and said, 'Everything you touch turns to gold. Could you touch me?' I almost turned off the television.
Those are just a few examples, and while they do make some small points, they completely miss the biggest one – that Morgan did what he was supposed to do. He was an improvement over King and he got the world talking. Sure the New York media is criticizing him, but Morgan knows that means they're watching, and there's nothing wrong with that.