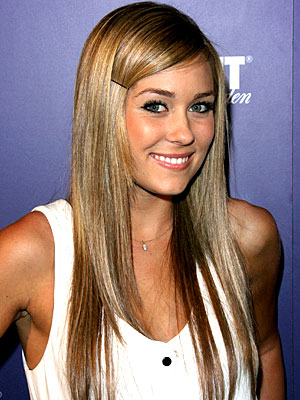 Lauren Conrad is on quite the tear. She kind of sort of wrote her own book, launched a clothing line, launched a website, and recently edited Lucky's Tumblr. Now she can add Forbes blogger to that growing resume.
She's going to be writing for the website over the next few months, and her first column is available today. What does Conrad write about in her debut? Being a "Celebpreneur" of course!
Here's a sampling of her advice.
Do whatever you want. "I wanted to design a couple of chiffon blouses, but Kohl's research said that customers wouldn't buy a see-through top… Instead of accepting that the customer might not understand how to wear the piece, we decided we would educate her." Sorry Kohl's! Tons of research doesn't trump LC.
Saturate consumers with mundane details. "Whether it's a Twitpic of a dinner I've made (yes, I do cook!) or a blog about affordable ways to decorate your apartment, I share my ever-growing list of interests online… everything I post on my website is syndicated to Facebook and Twitter and vice versa." Because when you're LC, pictures of your tuna casserole are always necessary.
Just be yourself. "I have been fortunate enough to spend time speaking to thousands of my fans through book tours and personal appearances. Here, I get the chance to meet the young ladies who purchase pieces from my clothing line with their hard-earned paychecks and ask for my books for Christmas. It is during these encounters that they ask: 'Where did you get that nail polish?' or 'What size curling iron do you use?'" It should be noted that if you're not Lauren Conrad, you should try harder to be Lauren Conrad.