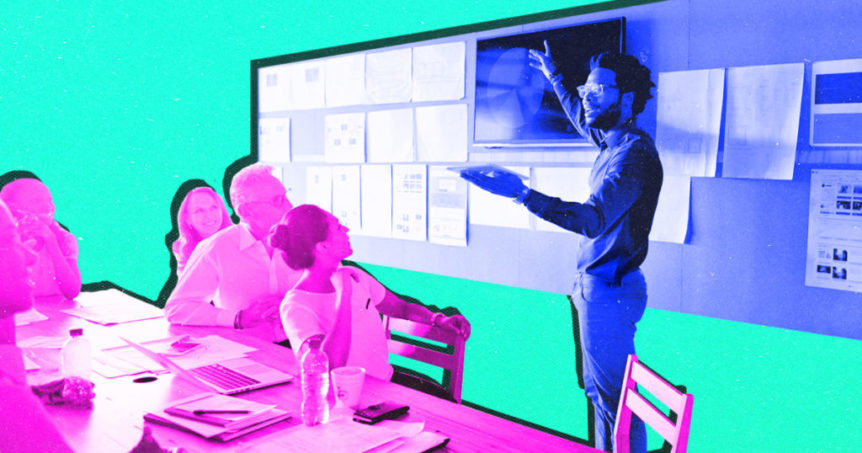 This is the first in Adweek's new series covering fellowship programs at agencies. As agencies continue to face a talent crunch, many recent graduates or career changers are seeking a way into the industry. Here, we cover programs for entry-level marketers at top agencies.
PMG, the Texas-based independent agency that won Adweek's 2021 Breakthrough Media Agency of the Year award, is currently hiring for the next class of its graduate leadership program (GLP). The agency also has offices in New York and London and boasts clients including TikTok for Business, Beats by Dre, Old Navy, Sephora, SurveyMonkey, Madewell and Michael Kors.
The year-long GLP program is designed for post graduates who have limited work experience and are seeking entry to the advertising industry. During the first 16 weeks on the job, GLP hires undergo an intensive onboarding and training process before integrating with account teams to gain hands-on experience. The agency, which hopes to teach new hires leadership skills, brings in guest speakers from Harvard Business School professors to experts in radical candor and negotiation skills.
"That full year, they're not just in the development program, it's a blend of heavy intense development up front, then placement on a team with ongoing development," Stacey Martin, PMG's chief people officer told Adweek.
The program ensures that the agency is constantly hiring new talent. With its investment in the program, it's able to regularly promote its talent when GLP hires join new accounts.
"One of the beautiful things about our GLP program is it's really the way in which we continue to offer an upper mobility for our existing PMGers," said Martin. "It's a really great way to constantly infuse new talent and new thinking, while still rewarding and promoting our existing staff," she added.
Over the past two years, over 100 entry-level marketers have participated in the program. In the past, the agency hired just one cohort each summer. This year, it expanded the program to two cohorts per year and hired a January class of 17.
As full-time PMG employees, GLP hires receive a salary and have access to all the benefits granted to all other employees.
"One of the differences in our program is a lot of other companies are doing more traditional internships. That is not what this is like. You are hired day one as a PMGer. Therefore, you are eligible for all the same benefits and perks that all PMGers have," said Martin.
PMG Graduate Leadership Program from PMG on Vimeo.
When did your company found the program?
After hiring and developing new college grads for many years, PMG formally launched the Graduate Leadership Program in 2018 to help provide dedicated training and leadership development to early career hires—and help bridge the gap between graduation and starting a career in digital.
How many classes of fellows/interns do you welcome each year?
We have a Winter and a Summer cohort.
How long does the program run for?
12 months.
What does your program pay? The more transparency you can provide, the better. Please also note whether fellows are salaried employees with benefits, or if they are paid hourly.
GLP participants are full-time salaried employees with full benefits. PMG offers a market competitive compensation package that is reflective of prior experience and qualifications, to include academic rigor; additionally, all PMGers are eligible to be rewarded through the company's annual bonus program, above and beyond their base salary.
How many fellows/interns do you hire or plan to hire for each class?
In January, we welcomed 17 GLPers to PMG's Dallas office and we're expecting to welcome up to 90 Summer GLPers in June.
What percentage of your most recent class of fellows/interns are historically underrepresented?
Summer 2021 Program: 45% underrepresented and 77% female.
How long is the application process from start to finish?
Applications for the Summer GLP cohort open in the Fall and close in May, with acceptances on a rolling basis. The application process varies by track and is inclusive of a multi-step assessment process to ensure the best candidate experience—and opportunity for long-term success in the program and at PMG.
What do you require from applicants as part of the hiring process?
Candidates must have completed a Bachelor's or Master's Degree between Spring 2021 and Spring 2022, have a GPA of 3.2 or above and have relevant professional work and/or internship experience. During the interview process, qualified candidates are asked to complete a brief cognitive assessment, a virtual one-way interview, a technical skills assessment and a final panel interview.
What percentage of your fellows/interns receive full-time offers by the end of your program?
All Graduate Leadership Program hires receive a full-time offer when they join the program.
When are you hiring your next class of fellows/interns?
We are actively recruiting media and software engineering candidates for Summer 2022. Applications for Summer 2022 will close in May.
You can apply for the GLP program for media and software engineering here.
Is there a program you would like us to know about? Please reach out to olivia.morley@adweek.com and tell us more.