Several weeks after they were suspended for wearing Afro-like wigs on-air—angering the Black community—KATV anchor Chris May and meteorologist Barry Brandt returned to the Little Rock, Ark. ABC affiliate's airwaves last night and apologized for their "offensive" actions.
On Sept. 16, May and Brandt, who are both white, wore what appeared to be Afro wigs during a newscast in a gag the station said was supposed to "invoke an era of the '70s."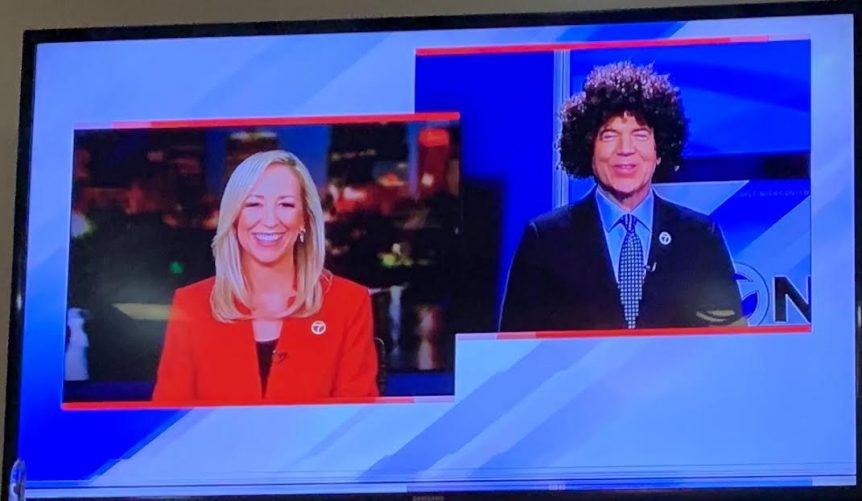 Instead, the incident sparked a public outcry. Station owner Sinclair Broadcast, which apologized multiple times, fired KATV news director Nick Genty (Blaise Labbe, the regional news director for Sinclair, is overseeing the KATV newsroom on an interim basis) and suspended the two anchors.
May and Brandt returned from their suspensions Wednesday, and kicked off KATV's 10 p.m. newscast by each apologizing for their actions. May went first, and said the following:
First, I want to take a moment to apologize and be accountable for a terrible decision I made when I last appeared on this newscast back on Sept. 16. That night I did what many of you have said I did: I appropriated a look that was not just unprofessional, it was insensitive, and it was offensive. My intentions were irrelevant. All that matters is how I made people feel. And it is clear that I caused many people, many African-Americans in particular, to feel pain. And for that I could not be more sorry. It has been said that questions of race and racism can define people's view of the world in fundamental ways, and on a newscast like this one, it's important those viewers be explored and amplified. Treated with respect, not ridicule. All of this has led me to more closely examine myself and the station to more closely examine its mission and purpose in covering our entire community. In both cases, I think we found that we can and we must do better, and moving forward , we promise we will. Personally, I'm grateful for a second chance to earn your trust and to continue serving this city and this state that we are all so proud to call our home.
Brandt then gave his own apology:
And I want to sincerely apologize for my actions a few weeks ago during a live broadcast. I made what I believed was a lighthearted reference to the 1970s using a prop during my forecast. Please know that was never, ever my intention to offend or cause any harm. This incident has taught me to be more aware of cliches and stereotypes and the damage they can cause. It was insensitive, it was objectionable, I apologize deeply for my actions and I will work to regain your trust.
Last month, a KATV spokesperson told TVSpy in a statement, "It was determined through our investigation into the recent events at KATV that swift action was important to hold the responsible parties accountable. We are also implementing further training for sensitivity and workplace conduct, in line with our commitment to ensuring events like this don't happen again."