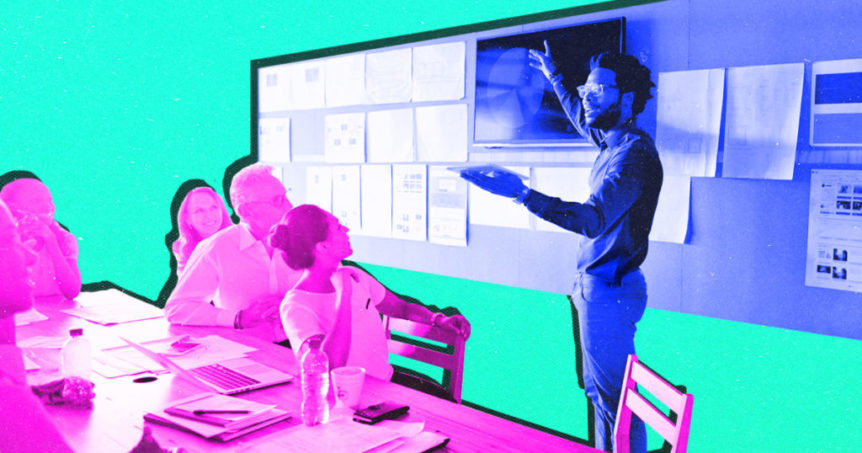 This story is part of Adweek's new series covering fellowship programs at agencies. As agencies continue to face a talent crunch, many recent graduates or career changers are seeking a way into the industry. In this series, we cover programs for entry-level marketers at top agencies.
VaynerMedia is one of the few residency programs available to applicants without a college degree—and perhaps the only one to offer one-on-one interaction with an agency leader who has achieved fame and success beyond the advertising space.
Gary Vaynerchuk's agency formally launched the VaynerMedia Global Residency Program in 2020—and since then has hired multiple cohorts. For a 12-week period, residents acquire a formal media education and spend several hours each day in a classroom environment. The rest of their time is spent doing hands-on work.
The residency program provides a foundation to residents, regardless of if they've worked in media before or not.
"It's just this collective starting point, but also the collective starting point with the Vayner point of view. Everybody's grounded, at the same time," said Sarah Murphy, VaynerMedia's evp, head of capabilities.
Residents complete two lessons a day, amounting to ten hours of classroom time each week. They spend the rest of their time working on client accounts.
Within the program's first two weeks, residents have access to agency senior leadership—including Vaynerchuk—and attend fireside talks with the leaders host. Later, residents take a deep-dive into the Vayner Volume Model (VVM), the agency's approach to quickly testing digital content.
Understanding content and collaborating with creatives is part of the VVM process.
Before 2020, the agency had been training media planners specifically, but that year it decided to expand the residency program globally and merge media training with training in other disciplines, like creative.
"You want to know what your other fellow departments, your other fellows, are doing," Murphy said.
Angelina Yang was a member of the residency program's first cohort, and told Adweek it allowed her to be in the weeds on purpose. She learned "how to run and pace, a digital marketing campaign from start to finish." Two years into her time at VaynerMedia, Yang has been promoted twice and is now manager of paid media and consulting.
"It's been truly amazing just to see how many people have stayed on and been promoted, you know, nine months in, to a senior associate or senior analyst," said Murphy.
TLDR: Check out program details, including how to apply, in our Q&A with VaynerMedia below:
When did you found the program?
While VaynerMedia has offered entry-level training for several years, our first "official" Residency Program started in July 2020 with the Media department. In 2021, we expanded the program to an integrated offering to also include the Strategy, Creative & Analytics departments.
How many classes do you welcome each year?
On average, we welcome 3-4 classes per year. In 2022, we hired our first class of the year in January and we'll hold additional sessions in June and September/October.
How long does the residency run for?
The program is 12 weeks, with a mix of dedicated class time (100+ lessons) and hands-on training on client accounts.
What does the residency pay?
Residents across the board are paid $18/hour + overtime (OT) during the program. Once they are brought on full-time, salaries will change to an annual base salary.
How many employees do you hire or plan to hire for each class?
Our intention is to convert every resident to a full-time hire, therefore hiring is based on business needs and the amount per class varies. Our first class in 2020 was a total of 16 residents and in 2021 we hired over 100 residents. Our latest "Winter 2022" class consisted of over 50 residents. With three classes per year, we are averaging 180-230 residents in total each year.
What percentage of your most recent class of program employees are historically underrepresented?
For our most recent Winter 2022 class, 74% of the residents identified as part of a historically underrepresented group and 57% were women.
Is a college degree required to apply?
No. While we often partner with career services departments across both four-year and two-year institutions, we also work with several organizations aimed at providing diverse, low-income and first-generation grads with employment opportunities. We regularly hold information sessions and encourage anyone interested to reach out to us. As a note, VaynerMedia doesn't require college degrees across several disciplines.
How long is the application process from start to finish?
We hire on a rolling basis. While the entire hiring process can be done in as little as two weeks, we try to build lasting relationships with candidates and figure out which residency program works best for them. Some candidates may apply months before they're able to commit—and we simply consider them for the residency program that best aligns with their availability.
What do applicants need to prepare as part of the hiring process?
The first step in the application process for all of our residency applications is an assignment, which highlights the day-to-day of each role. Then we meet with candidates to chat through the role and provide feedback on what they produced. For all of our disciplines, the application process is as follows: submit a formal application; complete a discipline-specific assignment (these assignments vary by department.); interview with a recruiter; interview with a discipline team; decision/offer. That said, we don't look for individuals who have direct experience in any of the disciplines; instead we look for those eager to learn and who have a passion for digital media and then we train them.
What percentage of your cohort receives full-time offers by the end of your program?
As mentioned, for each class we hire based on the needs of the business. As such, the total hires may fluctuate by department or by office. However, our intent is always to convert 100% of the residents to full-time employees upon graduation of the program. As of February 2022, 97% of our residents have transitioned into full-time roles at the end of the residency.
When are you hiring your next cohort?
We are currently hiring for our June 2022 class. We are also happy to talk to potential candidates in advance for our September/October intake.
Links to apply can be found on the VaynerMedia career portal.
Is there a program you would like us to know about? Please reach out to olivia.morley@adweek.com and tell us more. Do you want to share information about your agency's program? Just answer a few questions, and we'll be in touch if it's a good fit for the series.