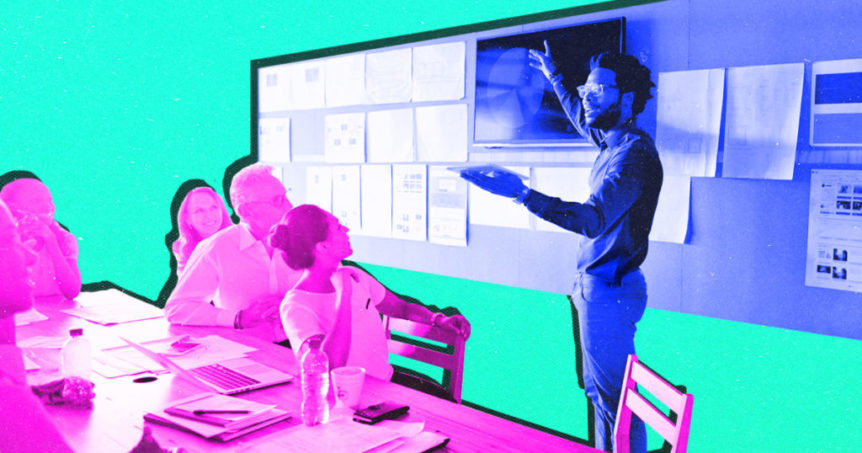 This is part of Adweek's new series covering fellowship programs at agencies. As agencies continue to face a talent crunch, many recent graduates or career changers are seeking a way into the industry. Here, we cover programs for entry-level marketers at top agencies.
January Digital founded its January Digital Accelerated Program in March 2022 to accelerate participants' pathways to post-graduate work at the agency, which effectively speeds up their career trajectory.
January Digital hires program graduates as senior coordinators, whereas those who have not completed the program may join the agency at the coordinator level. Senior coordinators then mentor new program participants.
January Digital senior director of human resources Keren Kozar developed the program and credits her team and HR manager Justin Dinnanauth for transforming her "seed of an idea" into "something real and exciting."
Through training and hands-on experiences, the agency equips interns with skills they'll need to succeed at January Digital, according to Kozar. Training and development is part of the agency's ethos. Multiple January Digital leaders began their careers as interns, and—as they climbed the corporate ladder—they wanted to offer similar training and learning opportunities to young talent. The Accelerated Program reflects that commitment.
The program allows potential full-time employees to metaphorically "try [the agency] before they buy," according to Kozar. New interns are accepted in the summer and may be invited to stay on for the fall and spring semesters, allowing them to stay in the program for a full year leading up to their college graduation. The flexible time frames allow participants enough time to embed themselves in the January Digital culture—and nurture interpersonal relationships with colleagues.
January Digital created the program to double down on a commitment to instill consistent people-management tactics across the agency. By building up an entry-level team, January Digital prepares program participants to someday be people managers.
"By their next promotion, they'll likely begin managing interns themselves," said Kozar. January Digital senior coordinators work with participants by creating onboarding plans, holding one-to-ones and providing performance reviews.
Haley Ledford joined the Accelerated Program in June 2021 as its first participant—and remained in the program until her college graduation in May 2022. Shortly after that, January Digital hired Ledford as a senior coordinator.
The January Digital mission statement inspired Ledford to join the program and begin her career at the agency. "January Digital was entirely focused on making a positive impact in all of their touchpoints," Ledford said. All agency employees know that mission statement—to improve the lives of our people, our clients and the world around us—by heart, she added.
January Digital CEO Vic Drabicky reassured Ledford's program cohort that it is more valuable to be curious than to worry about asking the right questions.
"He challenged us to ask 'Why?' at every opportunity," she said. "And if the answer was, 'We've always done it this way,' then challenge it and look for ways to do things better."
TLDR: Check out program details, including how to apply, in our Q&A with January Digital below. Responses have been lightly edited for clarity and style.
When did January Digital found the program?
January Digital started accepting interns in 2015. Lindsay O'Callaghan was the first-ever intern and now she works as associate director, client strategy and service at January Digital. The January Digital Accelerated Program began in March 2022—and was created as an expansion of January Digital's existing internship program to create a pipeline of entry-level talent at the senior coordinator level. This program ultimately creates a broader internal pipeline for managers—and gives employees who have completed the January Digital Accelerated Program a clear progression plan.
How many intern classes does January Digital welcome each year?
January Digital welcomes one class of interns every year at our New York and Dallas offices, depending on ongoing work and hiring needs.
How long does the program run for?
This annual program runs on three cycles that are designed to correlate with the academic semesters; summer, fall and spring. The summer cycle runs for 2.5 months, the fall cycle runs for 4 months and the spring cycle runs for 5 months. Intern offers can be extended to the next cycle so, at most, the program can run for a full year for each candidate as they are working through their undergraduate studies.
The summer cycle runs from March to mid-August and is a full-time program. In March/April, we begin with recruiting efforts and initial internship offers. The summer cycle and training cohort, similar to the coordinator cohort training, begins in June. In July, intern performance reviews occur and—by the end of the month—offers are extended for interns who we wish to continue working into the fall cycle.
The fall cycle runs from September to December—and interns work part-time (16+ Hours). In October, intern performance reviews take place and offers are extended for the spring cycle in November. The spring cycle runs from January to May and interns also work part-time (24+ hours). Intern performance reviews occur in March—and offers are also extended for the senior coordinator role. In June, former interns start as senior coordinators.
How many fellows/interns do you hire or plan to hire for each class? Please provide your most recent hiring data.
January Digital hires 4-6 interns for each class.
What percentage of your most recent cohort are historically underrepresented?
From our most recent class of fellows, 40% are women and 30% are historically underrepresented.
Is a college degree required for your program?
January Digital's Accelerated Program focuses on developing undergraduate seniors into senior coordinators, as soon as they graduate with a college degree.
How long is the application process from start to finish?
The application process is approximately two to three weeks long per candidate.
What do you require from applicants as part of the hiring process?
We require interns to submit a resume, partake in an asynchronous video interview and a live interview with 2-3 of our intern managers.
What percentage of your fellows/interns receive full-time offers by the end of your program?
Some of our most successful interns include Ledford, Malachi Figueroa, Brandon Miller and Ana Pitanga. All of these individuals were offered full-time roles with us.
When are you hiring your next cohort?
Applications for the summer cycle are currently closed, but we will begin accepting interns for the fall cycle in August! When applications open, undergraduate seniors can apply here.
Is there a program you would like us to know about? Please reach out to olivia.morley@adweek.com and complete our survey to tell us more.