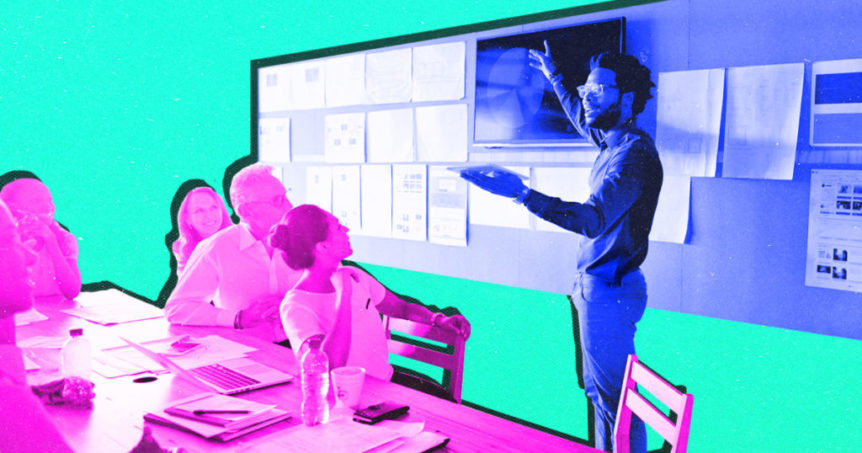 This is part of Adweek's new series covering fellowship programs at agencies. As agencies continue to face a talent crunch, many recent graduates or career changers are seeking a way into the industry. Here, we cover programs for entry-level marketers at top agencies.
Weber Shandwick's CultureTap Academy seeks out college students who don't necessarily have a typical media and communications background. The communications agency founded the program this year, with an aim to supplement its existing Media Genius fellowship program with another program that specializes in understanding Gen Z buyer behaviors.
The agency's leaders got the idea for the program when Weber Shandwick's Media Genius and CultureTap teams noticed that client briefs shared things in common, according to Louisa Hager, Weber Shandwick's creative director and a member of the firm's CultureTap team. The teams found that the most pressing questions that arose in briefs centered around how brands could engage Gen Z and push that demographic to take desired actions. The agency recognized that it needed to form a team that would research the Gen Z audience in the same way that its individual creative teams already researched the Millennial, Gen X and Boomer groups.
When Hager was searching for her first job as a copywriter, she competed with other candidates who went to ad school. The CultureTap experience, she said, differentiates itself from the typical ad school experience because Weber Shandwick encourages interns to adopt conceptual and earned-first thinking.
"I'm proud that this program offers young creatives a different path into the marketing and communications industry, prioritizing the development of exciting, culturally-driven ideas that generate brand love and conversation without paid support," she told Adweek.
The Media Genius program launched in 2018 and Julia Dixon was one of the first people to join. Now she's the content manager for the Media Genius program—and finds the new CultureTap program adds value to her work.
"After working on accounts for years, you can start to think that you've explored every avenue for creative inspiration," Dixon told Adweek. "But the [CultureTap] team introduced us to new trends, fresh insights and surprising contexts we'd never considered."
June Hernandez, a rising senior at the University of Texas at Arlington pursuing a Bachelor of Arts degree in communication and psychology, is a CultureTap Academy Fellow.
As a naturally curious person, an important part of Hernandez's internship experience was accepting that sometimes tackling challenges by asking tough questions can mean failure. This possibility, she said, is also an opportunity for growth.
As a first-generation Mexican-American, she said that working at Weber Shandwick was a dream come true.
"I'm passionate about driving positive impact and being a voice for the underrepresented, so to have the opportunity to do that with big-name clients has been extremely fulfilling," she told Adweek.
Arianna Pierre, a rising senior at the University of South Carolina majoring in public relations, is also currently working as a CultureTap Academy Fellow. Pierre affirmed that it was the unique nature of the program, including the "fun" application questions that motivated her to apply.
"It sounded like it was designed for pop and internet culture fanatics like myself, so I felt I couldn't allow this opportunity to pass me by," she said.
Pierre fondly described the fast-paced environment the program operates within. Each week is dedicated to research, ideating and then presenting final concepts. Because of this setup, she explained that fellows in her cohort were able to "hyperfocus" on certain client needs.
The experience taught her that understanding a brand's voice is the best way for creatives to tap into key cultural moments. Pierre extended her internship with Weber Shandwick to broaden her understanding of the next generation of consumers.
"Weber Shandwick's dedication to being a socially-conscious and an 'in-culture' agency is what continues to put their work ahead of their competitors," she concluded.
TLDR: Check out program details, including how to apply, in our Q&A with Weber Shandwick below. Responses have been lightly edited for clarity and style.
When did Weber Shandwick found the program?
Weber Shandwick's Media Genius team has tracked signals and innovators reshaping communication since 2018. Our student programming has been central from the start of Media Genius, though 2022 is the first year for our a program specifically focused on culture.
How many classes of fellows/interns do you welcome each year?
Media Genius has hosted between three and 15 Fellows at a time over the course of the last five years. We've also convened virtual Exchange programs that provided more than 70 students from 100+ schools, 50+ majors and 20+ countries with programming, networking and guest speaker sessions. This summer we'll be accepting between five and eight students for CultureTap Academy.
How long does the program run for?
Six weeks. June 20 to August 13, 2022.
What does your program pay?
CultureTap Academy Fellows are paid $15 hourly with overtime eligibility.
How many fellows/interns do you hire or plan to hire for each class?
This summer we'll be accepting between five and eight students for CultureTap Academy.
What percentage of your most recent class of fellows/interns are historically underrepresented? How many are women?
This program is driven by the diverse minds, backgrounds, experiences and expertise of our fellows. Last year, nearly half of the cohort was BIPOC and nearly three quarters of the group were women.
Is a college degree required for your program?
No, we are interested in applicants' POV, passion and curiosity about topics essential to our work—whether that comes from educational background or elsewhere.
How long is the application process from start to finish?
Depending how long you take to noodle the questions, it generally takes about 20-30 minutes.
What do you require from applicants as part of the hiring process?
All we require are thoughtful, creative answers to our application questions.
What percentage of your fellows/interns receive full-time offers by the end of your program?
To date, we've hired six full-time employees and nine interns following Media Genius programs.
When are you hiring your next class of fellows/interns? Please include the application deadline, and a link to the online application if possible.
Keep an eye out for the next program application date here.