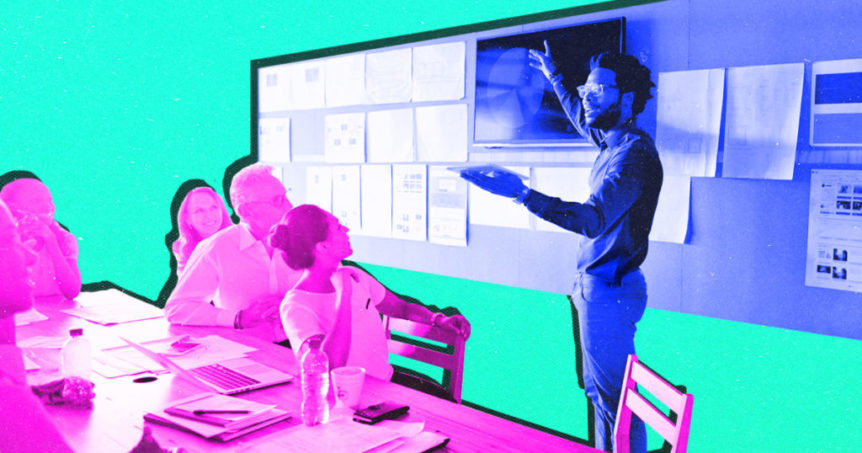 This is part of Adweek's series covering fellowship programs at agencies. As agencies continue to face a talent crunch, many recent graduates or career changers are seeking a way into the industry. Here, we cover programs for entry-level marketers at top agencies.
Epsilon's New Grad program puts recent college graduates on a two-year professional fast track. New Grads join Epsilon as paid, full-time employees with accelerated review periods that allow for frequent raises.
The program runs alongside Epsilon's college internship program, but the two complement each other so that former interns may be considered for the New Grad program upon earning a degree.
Each New Grad participates, for part of their workday, in an eight-week-long training program.
"They're doing a lot of classroom training in those first few weeks, learning professional skills but also obviously job-specific skills," David Lucey, Epsilon's vp of recruiting told Adweek.
The company hires three cohorts each year, with onboarding classes in January, June and September. The program is large–in 2023 the company plans to hire about 200 New Grads.
"The New Grad program provides hands-on training, tools, a ton of support and ongoing resources," said Stephanie Berard, an account manager at Epsilon who completed the New Grad program. Berard learned about Epsilon while at a college career fair, before completing two rounds of interviews and receiving an offer. Berard took on work for clients on her first day in the program.
Since completing the program five years ago, she now participates in the New Grad hiring process. Her account management team considers a candidate's capacity to learn, their interest in working for a marketing industry and their communication skills.
Epsilon prioritizes mentorship opportunities, pairing new employees with those who began the program one year before them. New Grads can also receive pay raises quicker than they would if they weren't in the program. Epsilon, like most companies, offers employees a yearly performance review and opportunity to earn a merit increase, but New Grads are eligible for a raise after just six months on the job. By the end of the first program year, they're eligible for a promotion.
"A member of the new grad program has formal discussions with compensation opportunity twice a year, which truly allows for ongoing performance and career goal conversations," Berard said. That open communication allowed her to express her career goals and receive feedback on an accelerated schedule.
TLDR: Check out program details, including how to apply, in our Q&A with Epsilon below. Responses have been lightly edited for clarity and style.
When did Epsilon found the program?
2011.
How many classes of fellows/interns do you welcome each year?
Three classes per year, (January, June and September onboarding classes).
How long does the program run for?
Two years.
What does your program pay?
Pay does vary by position and location. Hourly versus salaried does vary based on job title, however all associates receive the same benefits as full-time associates and additional early career development training opportunities. Benefits include: competitive pay, 401k, comprehensive health coverage and endless opportunities to advance your career. New Grads participate in a unique merit process with more frequent opportunities for performance-based increases.
How many fellows do you hire or plan to hire for each class?
Epsilon plans to hire about 200 New Grads in 2023.
Is a college degree required for your program?
Yes.
How long is the application process from start to finish?
About a month, on average.
What do you require from applicants as part of the hiring process?
The application process may vary per role (ex.: for more of the creative positions, a portfolio may be required), however the overall interview process consists of two rounds of interviews.
What percentage of your fellows receive full-time offers by the end of your program?
When students are hired into the New Grad program, they are hired as full-time employees.
When are you hiring your next class of fellows?
The hiring process for our 2023 New Grad program kicked off in September 2022. The application deadline will be mid-October 2022. For more information, visit Epsilon's Epic Blog. You can also apply on Epsilon's website.
Is there a program you would like us to know about? Please reach out to olivia.morley@adweek.com and complete our survey to tell us more