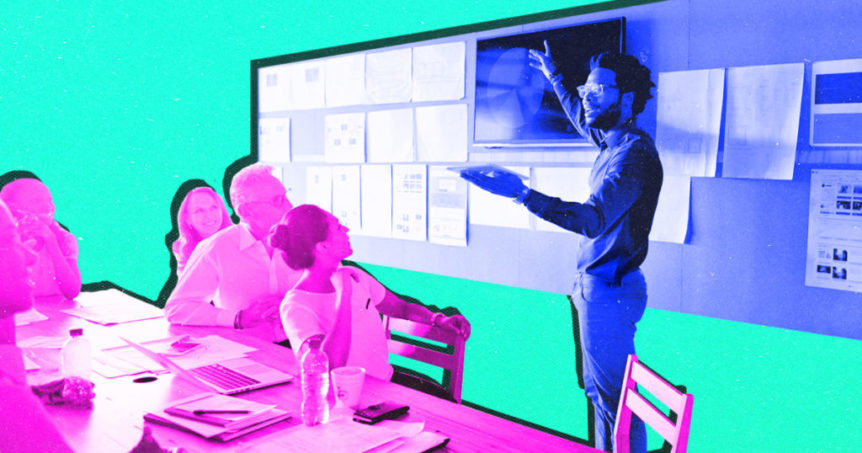 This is part of Adweek's new series covering fellowship programs at agencies. As agencies continue to face a talent crunch, many recent graduates or career changers are seeking a way into the industry. Here, we cover programs for entry-level marketers at top agencies.
Today, applications for Wunderman Thompson's (WT) Catalyst Academy are live on its site. The Catalyst Academy is an 18-month salaried international fellowship program that accepts applications through October 28 and begins in April 2023.
Its pilot program, which launched last year, offered fellows (called Catalysts) a rotational experience and insight into various roles within WT's broad network.
This year's program is a bit more flexible, depending on the region applicants apply to work in. The U.K. offers highly-specialized experiences, whereas other regions' rotational experiences resemble the pilot program. Those experience may attract generalist applicants or those still searching for their niche.
Vera Van Doninck, WT's EMEA talent and culture director, worked with WT's talent acquisition team, its chief people officer and its broader people team last year to launch the program.
"There's a need to recruit and retain and grow early talent into a next generation of Wunderman Thompson. So we looked into really inclusively increasing the number of junior employees within our business," said Van Doninck.
Lisandra Radu, WT's EMEA learning and development coordinator, designed the recruitment process and took care to make it as inclusive as possible. "You can't eliminate your unconscious bias, but you can definitely be aware of it," she said.
To make that possible, the WT team is removing a written exercise requirement that created an accessibility barrier. This year, according to Radu, Catalyst recruitment teams will also involve WT's local teams and hiring managers in the hiring process at a much earlier stage—and educate them on inclusive hiring practices.
When new Catalysts start their roles in April 2023, they'll participate in a three-week onboarding session that will help them better understand WPP, learn more about WT and begin honing time management and basic working applications like Outlook. During this time, Catalysts also earn an IPA global certification. "This will be particularly useful for anyone who has not really done advertising before. It should really open their eyes to what advertising is all about," said Radu.
The program is global in nature and—as such—applicants can apply wherever they have a right to work. This year the program expanded from its three pilot markets in the U.K., Germany and the Netherlands to nine markets, adding Portugal, Greece, Italy, Benelux-Belgium, Dubai and South Africa.
The four-step hiring process is extensive. First, the EMEA talent recruitment team reviews an applicant's CV submission. Then, selected applicants submit a 90-second creative video in which they describe how they relate to the four behaviors WT values—(listening, positivity, creative bravery and "in it together.") Specifically, applicants must relate one of the four behaviors to the work stream they are applying to. Following the video, successful applicants have a call with the local talent team, introduce themselves and ask questions of the group. The process concludes with an interview with the hiring manger—and two other WT employees of different seniority levels and perspectives.
"I think it's quite obvious that we've tried to put a lot of the responsibility on the local markets and the hiring managers, to really make sure the talent that they have is the talent that they want, is the talent that they're looking for and is in line with the rotations," said Radu.
The program is competitive, with over 600 applicants leading to 11 roles in the pilot. Those pilot Catalysts are wrapping up their experience this month and—of the 11—nine have landed full-time roles. The purpose of the program, according to Van Doninck, is for each Catalyst to eventually land a full-time role at WT.
"Passion and energy and an eagerness to learn is important," said Van Doninck. "I would really urge people to apply and be confident in themselves—and really bring their true self to Wunderman Thompson."
TLDR: Check out program details, including how to apply, in our Q&A with Wunderman Thompson below. Responses have been lightly edited for clarity and style.
When did Wunderman Thompson found the program?
April, 2021.
How many classes of fellows/interns do you welcome each year?
The Catalyst Academy piloted in London, Berlin and Amsterdam. From 600 applications across the three cities, 10 candidates were hired for the April 2021 intake.
How long does the program run for?
It's an 18-month program that consists of multiple rotations within different parts of Wunderman Thompson business, including Prism, our sports and entertainment arm, Wunderman Thompson Data, Wunderman Thompson Commerce and various departments within Wunderman Thompson Amsterdam, London and Germany.
What does your program pay?
We want to make sure our Catalysts are set up for success from day one, so they start off with a competitive base salary, plus a welcome bonus to help them get set up. They'll also get 25 days annual leave, discount on medical insurance and a healthy pension contribution—it's never too early to plan for your future. You will have access to a whole host of personal development opportunities, plus the chance to be part of our employee resource groups including Women's Network, Unite, Roots, Wellbeing and Green Team.
How many fellows do you hire or plan to hire for each class?
From the first pilot, we look to place 10 Catalysts into permanent roles across our Wunderman Thompson network. Going forward, we are looking to expand the program across the region and bring in 30 new Catalysts from April 2023.
What percentage of your most recent class of fellows/interns are historically underrepresented?
Of the 11 candidates that were hired, 42% were Black, Asian and ethnic minority backgrounds; 43% identify as female or non-binary; and 18% selected they had a disability.
Is a college degree required for your program?
No, a degree or experience in the industry are not required.
How long is the application process from start to finish?
The pilot had three stages. Stage 1, Catalysts had to answer six written questions about our Behaviours. Stage 2 was a 90-second video about a behavior they most relate to—and finally—Stage 3 was an assessment centre, with a mixture of group exercises and interviews. All in all, the recruitment process from the candidate perspective was eight weeks.
What do you require from applicants as part of the hiring process?
To ensure the Catalyst Academy was accessible to all, we ensured we advertised across a range of platforms including The Other Box, Creative Equals, The Dots, Brixton Finishing School, Stonewall, WPP's Roots network, Camden's secondary schools and non-graduate colleges, LinkedIn, Milkround, Glassdoor and Drive Forward, to name a few. The application process was open for eight weeks—and ditched a traditional CV and asked candidates to answer six key questions linked to our behaviors (listening, in it together, creative bravery and positivity).
All personal data was removed, meaning no personal or demographic details were ever seen (throughout the entire process) to remove any bias. The top scoring 250 individuals were invited to submit a 90-second video answering a broad brief linked to Wunderman Thompson's behaviors (Listening, Positivity, Creative Bravery, and In It Together). Candidates were encouraged to be as creative as they liked, with no guard rails in place. Candidates weren't scored down for format.
The top 50 were invited to an assessment day, where they had an introduction to Wunderman Thompson and partook in smaller group activities in which they were asked to work on a creative brief. Candidates were also invited to individual interviews with Wunderman Thompson assessors, who were given a set of pre-defined questions and had all been through bias training. We saw over 600 applications across the three cities. Candidates were assessed using a pre-determined matrix, scoring across behaviors, technical ability and storytelling.
What percentage of your fellows receive full-time offers by the end of your program?
As the end of the program is approaching, we are working with the candidates to identify where they will be best positioned to succeed in a landing role within Wunderman Thompson.
When are you hiring your next class of fellows?
We look to hire 30 Catalysts by April 2023. Those interested can apply on the agency's website. Applications are open from now until October 28, 2022.