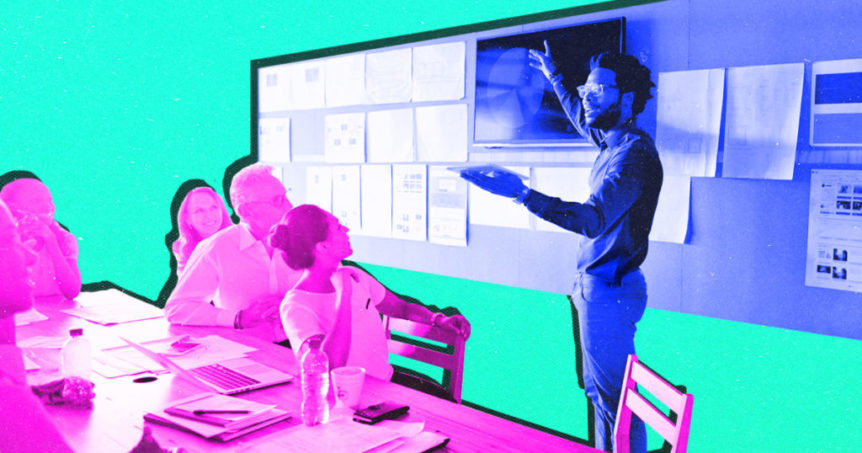 This is part of Adweek's new series covering fellowship programs at agencies. As agencies continue to face a talent crunch, many recent graduates or career changers are seeking a way into the industry. Here, we cover programs for entry-level marketers at top agencies.
WPP's NextGen Leaders program is one of the industry's more flexible, self-serve learning opportunities. It stands out from other programs because it opens up doors for nascent talent on a global level. And, because of the light 10-week-long commitment, students can complete the program while working full time if needed.
The network's sheer size makes it possible to for rising marketers from over 70 countries to learn about the ecosystem at-large and WPP. As the largest advertising holding company in the world, it's one of few that have the size and scope to offer a built out global learning opportunity. Accepted applicants must speak English to join the cohort, but as the program grows WPP aims to include courses in other languages.
Naheeda Baloch, who is based in Dubai, joined the NextGen program this year and recalls that the application process was straightforward. "It was simple process–just a few questions to answer and I think a week later I found out I got in the program while getting a congratulatory note," she told Adweek.
The program offers advertising industry newcomers a complete guide to the ecosystem in a self-serve format that simplifies learning.
"It gives people the opportunity to understand and experience the ad industry. Because what we're trying to do is bring people in that would have never even thought about our industry as an opportunity," said Jennifer Remling, WPP's chief people officer and the executive sponsor of the NextGen program. This year, WPP is kicking off a new version of the program called NextGen Health, focused on healthcare advertising.
When WPP founded the program in 2020, it was looking to create a digital solution for rising marketers who were unable to do an in-person internship during the height of the pandemic.
The self-serve model includes some live, virtual sessions where participants can ask WPP employees questions. During a virtual experience called "Table Talk," NextGen participants to engage, in subgroups of 20 to 30 students, with a WPP representative who fills a mentorship role.
"It wasn't recorded, so we have more fun and interactive sessions to ask questions… in order to ask the most serious question without being judged. It was also a kind of a confidence booster," Baloch said.
WPP clients sometimes serve as panelists at these virtual live events, opening up opportunities for the cohort to meet and connect with industry leaders on the client side, and to engage them for work should they choose.
This program, unlike others covered so far in this Adweek series, does not guarantee students employment opportunities at WPP at its end. But now in its third year, leaders are forging strong relationships with WPP agencies to learn about hiring needs, and how they can play matchmaker for NextGen students and any agencies seeking interns or entry-level talent.
The NextGen group also has a LinkedIn group where students can post questions and receive answers quickly. "I have full access to WPP network," Baloch noted. And the program's scope is vast, making it possible for students to gain an understanding of disciplines ranging from media to digital marketing, business development and more.
"You cannot imagine the kind of network and the opportunities you can get through this program," said Baloch, adding that when she wanted to connect with Fiona Gordon, Ogilvy U.K. CEO, the leader said "why not?" and set up a call.
TLDR: Check out program details, including how to apply, in our Q&A with WPP below:
When did your company found the program?
NextGen Leaders — June 2020. NextGen Health is new this year (2022).
How many classes of fellows/interns do you welcome each year?
One class per program, taking place over the summer.
How long does the program run for?
They are both 10-week global, virtual learning programs.

What does your program pay?
NextGen programs are not salaried, as the programs are leveraged to be introductory and educational. Participants only need to commit around 2-4 hours per week for the 10 weeks of the program.

How many fellows/interns do you hire or plan to hire for each class?
Our 2021 NextGen Leaders cohort included a group of over 1,500 people. We are aiming for more this year and flexible in the number of fellows we can welcome to the program. NextGen Health is new this year but also flexible in accepted number of participants.
What percentage of your most recent class of NextGen participants are historically underrepresented?
50% of 2021 participants in NextGen Leaders in the U.S. and U.K. identified as Black, Asian or LatinX; 60% identified as female; 11% identified as LGBTQ+; 8% identified as having a disability/neurodiversity.
Is a college degree required to apply?
No (for both programs).

How long is the application process from start to finish?
Approximately 30 minutes. The application process is brief.

What do you require from applicants as part of the hiring process?
Three things: 1) Brief questionnaire; 2) Optional upload of their portfolio, social media, creative work or anything that represents how they express themselves creatively; 3) 250-word question about what motivated them to apply to program or what creativity means to them.

What percentage of your fellows/interns receive full-time offers by the end of your program?
While NextGen programs don't guarantee employment, WPP is partnering with some of our largest agencies to make NextGen a feeder into programs like GroupM's LaunchPad or Grey's Colors of Grey that do guarantee employment.
When are you hiring your next class of fellows/interns?
This year's programs both started the week of June 6.
How do program participants network and communicate both during and after the program?
NextGen Alumni are invited to join a LinkedIn alumni group. One of our big focuses this year is the experience and community-building aspects of the program. With that in mind, we added various opportunities for students to network and communicate with each other, from dedicated chat channels on Teams, to small community pods led by WPP professionals, Table Talks hosted by our ERGs, Participant Spotlights, and #IAMRemarkable sessions.
To learn more about the program, you can visit the NextGen site here or email NextGenLeaders@wpp.com.
Is there a program you would like us to know about? Please reach out to olivia.morley@adweek.com and tell us more.