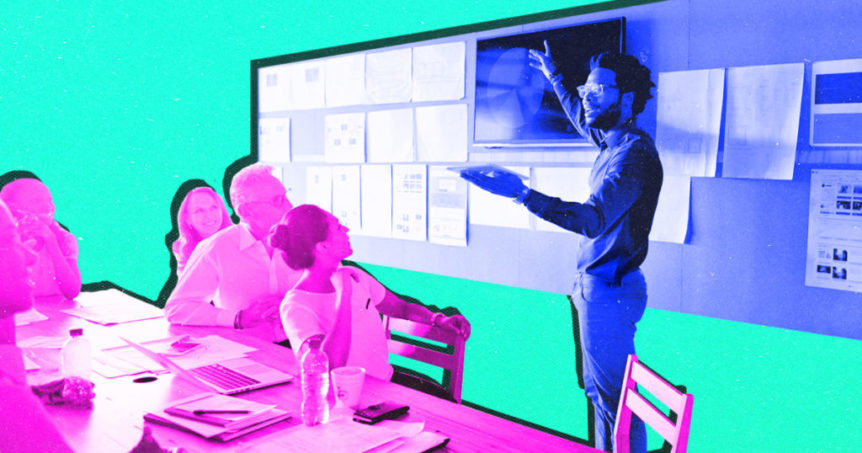 This story is part of Adweek's new series covering fellowship programs at agencies. As agencies continue to face a talent crunch, many recent graduates or career changers are seeking a way into the industry. In this series, we cover programs for entry-level marketers at top agencies.
Arion Kidd-Weeks is one of three fellows who started in 2021 at S4 Capital. Kidd-Weeks and his two counterparts—all three hailing from HBCUs—committed to the Martin Sorrell-backed company for four years. Characterized by its flexibility, the S4 program offers a salary and fully-covered immersive learning experiences across the globe.
Kidd-Weeks studied cinema, television and emerging media at Morehouse College, snagging high-profile projects after graduation like producing work for Beats by Dre's Apple partnership. Seeking formal entry into the ad world, he found the S4 program online and applied.
That application involves a comprehensive interview process that grants candidates interviews with the highest levels of leadership—from Media.Monks' founder Wesley Ter Haar and MightyHive founder Pete Kim, to Sir Martin Sorrell himself.
"It was a cloudy day, but the clouds went away, literally and the sun started shining. It just felt so good and so fulfilling that all of the hard work that I put in throughout the application process paid off and came to fruition at the end. So I'll never forget that day. And I'll never forget that feeling that came over me," Kidd-Weeks told Adweek.
S4 offers fellows a hybrid experience, where a fellow can visit Media.Monks' offices or opt to work from home. The company sponsors relocation for its fellows, assuming they want to work in a particular location. It fully covered the costs of Kidd-Weeks' move from Atlanta to Los Angeles.
"It was a matter of deciding where I wanted to go. And I decided, 'I want to go back to L.A. and work in that Los Angeles creative hub.' So I shared that, and they supported that 100%," he said.
Fellows can customize their experience, even when that means frequent relocation. Kidd-Weeks will move to London in the coming months to gain international experience. Fellows can also mold their experience to their interests. Kidd-Weeks opted for a joint mentorship structure in which he learns from a copywriter on the creative team and a copywriter on the film and content team.
"We ended up customizing something for him based on his interests," Lara Burniston, co-managing director U.S., at Media.Monks, told Adweek. "The intention was [to] meet Arion, understand what he wants to learn and grow from [and] identify some good teams for him to be around. And then we'll have constant check-ins with him based off the objectives and goals [he has]. And we'll pivot from there," she said.
Kidd-Weeks currently reports to the Los Angeles ecd and is involved in concepting films and content, writing scripts and supporting content development through other initiatives like scouting and casting talent, going on-set to guide production or adjusting scripts on the fly.
"On the day of my offer for the program and employment the message came through and I celebrated by listening to "Son Shine" by Sault, (which was already stuck in my mind). This is a song that I hold near to my heart and ironically, it was recommended to me by Wesley Ter Haar during our interview," Kidd-Weeks told Adweek.
You can view more of Arion Kidd-Weeks' work here or connect with him on LinkedIn.
TLDR: Check out program details, including how to apply, in our Q&A with S4 Capital below.
When did you found the program?
January 2021.
How many cohorts do you welcome each year?
One.
How long does the fellowship program run for?
Four years.
What does your program pay, and do employees receive benefits?
S4 Capital Fellows are full-time salaried employees with full benefits, along with relocation and travel opportunities.
How many employees do you hire or plan to hire for each class?
F1 (2021) = 3, F2 (2022) = 5, F3 (2023 estimate) = 8-10. F3 will also commence in EMEA, estimate 4.
What percentage of your most recent class of program employees are historically underrepresented?
Our inaugural class includes three fellows from Historically Black Colleges and Universities (HBCUs), all three identify as BIPOC and two identify as male, one female.
Is a college degree required to apply for the fellowship?
No.
How competitive is the fellowship?
Since the launch of our Fellowship program in 2021, our recruitment sources have varied in the early stages of our program. Social media, word of mouth referrals, traffic to the S4Capital website and the HBCU career portal (Handshake) have driven applications and have increased in year two. Our three F1 Fellows were involved in recruiting the next class of fellows and were approached by potential candidates from their HBCUs, Spelman and Morehouse.
The career portal Handshake includes key information on the program, videos, how to apply using an ATS system (Breezy) and details on the application process—which is deliberately designed to be welcoming, but clear that it will require time and thought to be completed. We know from experience that this will filter out those candidates who see this as an opportunity worth their effort. It has proved to be remarkably efficient, delivering the kind of candidates we are looking for.
Every candidate who enquires and applies is given the opportunity for an application coaching session with a member of the Fellowship selection team, who offers tips, suggestions and advice on how to improve their application.
After an initial screening interview, each applicant meets with a panel of leaders on the fellowship selection team, with a final meeting with Sir Martin Sorrell to conclude our hiring decision.
How long is the application process from start to finish?
About two months.
What do applicants need to prepare as part of the hiring process?
We require an application, short video and resume.
What percentage of your cohort receives full-time offers by the end of your program?
No data on this is available at this time. The S4Capital Fellowship is four years long. With the first class joining in 2021, they are just a year in at this point.
When are you hiring your next cohort?
The next deadline for the S4Capital Fellowship is July/August 2022. More information is available here.
Is there a program you would like us to know about? Please reach out to olivia.morley@adweek.com and tell us more. Do you want to share information about your agency's program? Just answer a few questions, and we'll be in touch if it's a good fit for the series.