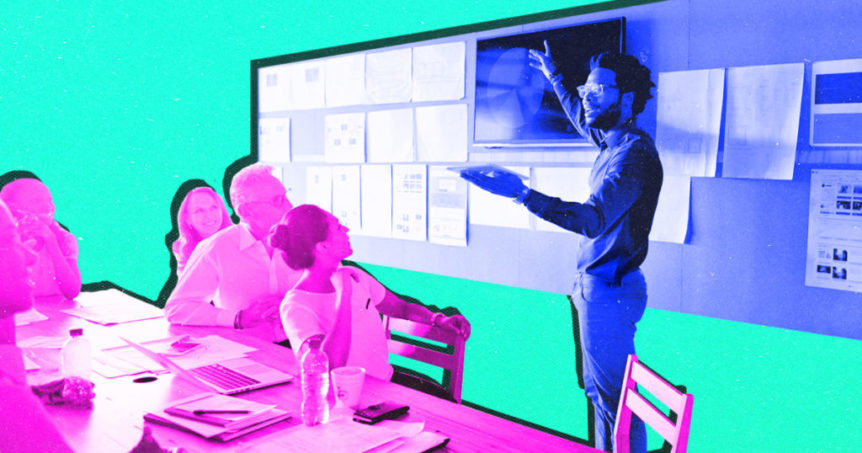 This story is part of Adweek's new series covering fellowship programs at agencies. As agencies continue to face a talent crunch, many recent graduates or career changers are seeking a way into the industry. In this series, we cover programs for entry-level marketers at top agencies.
One of the industry's most well-known trade organizations, the 4A's, hosts one of the oldest internship programs in the industry. It's called the Multicultural Advertising Intern Program, or MAIP and it's almost 50 years old. MAIP is one of several 4A's fellowship programs and it's the most well-known of them all.
The internship is designed for juniors or seniors in college or those enrolled in graduate school. Applicants must identify as Asian/Asian American, Native Hawaiian or Pacific Islander, Hispanic/Latinx, Black/African American, American Indian or Alaska Native, Multiracial or Multiethnic (e.g. Hispanic and Black).
The 4A's partners with host agencies across the U.S. Those in the 2022 cohort could study industry disciplines from creative to media to project management and beyond. A full list can be found here.
Before the program went virtual in 2020, interns would travel to work at their host agency and the 4A's would pay for interns' housing.
"We know next summer we need to pivot back to in person or thinking about some sort of hybrid," Marla Kaplowitz, CEO of the 4A's told Adweek.
The organization has over 4,100 MAIP alumni and hundreds of host organizations. Last year, the MAIP hired 400 interns and placed them at over 160 agencies.
"Not only agencies and holding companies, but also industry partners," said Tangie Murray, svp at the 4A's Foundation. "We're focused on really affecting and driving diversity throughout the creative ecosystem."
The MAIP 2022 cohort's fellowship will culminate in August with a week-long celebration and virtual awards event called the Face of Talent. Proceeds from the event go toward funding the program.
"In the past, the MAIP fellow used to have to pay a small [application] fee," said Kaplowitz. "We're really proud that we are no longer charging that and it's offset through sponsorship."
Other 4A's fellowship programs support high school students and mid-career industry folks. The MAIP program is specifically designed for students who are nearing college graduation—and many (85% of last year's cohort) find their first post-college jobs after completing it.
TLDR: Check out program details, including how to apply, in our Q&A with the 4A's below:
When did you found the program?
Founded in 1973, the Multicultural Advertising Intern Program's (MAIP) mission is to provide the advertising, marketing, and communications industry with the best talent through world-class development opportunities. It now sits within the 4A's Foundation (established in 1997), which is a 501c3 nonprofit and essentially the diversity, equity, inclusion and belonging arm of the 4A's. In 2023, MAIP will be celebrating 50 years since the program's inception, recognizing over 4,200 MAIP Fellows (now alumni) that have gone through this life-changing summer experience.
How many classes do you welcome each year?
We've welcomed 200+ fellows annually in the past couple of years. This year, we're welcoming 230+ fellows (interns) from all over the United States. Hear from our past fellows here: https://vimeo.com/648666289
How long does the fellowship run for?
The fellowship runs for 22 weeks, total. 12 weeks of MAIP Virtual Spring Training (which is on-demand learning), and 10 weeks of hands-on learning through internships with our MAIP partners, which now include both advertising agencies and other industry organizations! Throughout the summer, our fellows are not just "9-5" interns—they're attending MAIP labs, workshops designed to connect them to other industry professionals and equip them with the knowledge/skills that will contribute to their continued growth as entry-level talent in this industry. MAIP Fellows work on a competitive summer project, receive mentoring/coaching from industry leaders, and so much more.
What does the fellowship pay?
Fellows are paid hourly at their respective host agencies—and their pay varies based on city/location and the industry's standard for internships. The average rate could range anywhere between $12-$20+ an hour across the U.S. Each fellow works a full-time schedule at their host organization—and participates in a number of professional development opportunities, mentoring and more as part of their summer experience.
How many employees do you hire or plan to hire for each class?
This varies from year to year depending on our agency partners' intern openings. We plan to continue accepting ~200 fellows every year. This year we have ~230. The goal is to continue reaching as many students as possible, but we want to ensure the experience is as hands-on and personalized as it can possibly be. MAIP is a high-touch program and we want to ensure it remains so.
What percentage of your most recent class of program employees are historically underrepresented?
29% Asian | 18% Black/African American/Afro-Caribbean | 37% Hispanic/Latino | 2% Middle Eastern | 14% Multiracial | 82% Cis Female | 41% Cis Male | 1% Non-binary/Genderfluid
Is a college degree required to apply?
Yes, applicants must be currently enrolled in college (juniors/seniors) or in graduate school/portfolio school during the time of application.
How long is the application process from start to finish?
Applications open every fall semester (typically in September) and they close around the end of October/early November. Once the MAIP application has closed, the screening process begins. Those that move past the initial screening phase are then invited to Interview and are considered MAIP semi-finalists. Interviews typically take place between December through mid-January. After interviews, applicants find out if they're official MAIP Finalists and this is our favorite part of the process of course, as we get closer to finalizing the full incoming cohort! Finalists are invited to our MAIP Selection Celebration, which is when they find out if they received an internship offer with one of our partners. All finalists who receive an offer and accept it become part of the incoming MAIP cohort.
What do applicants need to prepare as part of the hiring process?
We are proud of our very holistic application process. One of the unique components of our application includes a 2-3 minute video where applicants have the opportunity to "add color to their resume." We provide a general question and they get to "show us, not just tell us" through the video. The rest of the application is more standard (resume, short answer questions) and we do ask for two letters of recommendation. For our creative applicants (Art Direction, Design, UX/UI, etc.) we typically have them submit a short project answering one of the creative prompts we provide. We offer different options and they choose the one they resonate with the most. If they have an existing portfolio, they are encouraged to submit that as well. However, we've had creative applicants that do not have an existing portfolio and only submit their creative prompt. We want to make sure that there is flexibility here as the whole point of an internship is to gain real-world experience.
The 2022 cohort has already begun, but those interested in applying next year can check out the 2022 application checklist to prepare
What percentage of your cohort receives full-time offers by the end of your program?
In 2021, over 85% of eligible MAIP alumni received and accepted full-time offers within the first 6 months after the program ended.
When are you hiring your next cohort?
The Multicultural Advertising Intern Program timeline stays the same every year. Applications open every fall, typically in September and they close towards the end of October/early November. We may change this in the future (to have an earlier opening) so we encourage students to follow us on our social channels and to complete our interest form.
Submit the interest form here.
Is there a program you would like us to know about? Please reach out to olivia.morley@adweek.com and tell us more. Do you want to share information about your agency's program? Just answer a few questions, and we'll be in touch if it's a good fit for the series.