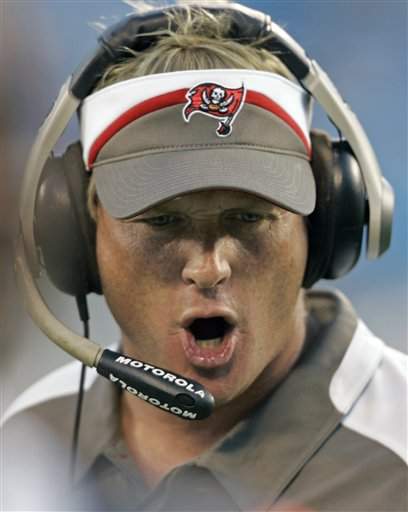 You can count former Tampa Bay quarterback and ESPN talking head Shaun King among the people who think "Jon Gruden: quarterback guru" is a misnomer. Gruden is doing an ESPN series with some of this year's most highly touted quarterback prospects including Cam Newton, Blaine Gabbert and Ryan Mallett. But King, who played for Gruden in Tampa for two seasons and is currently a radio host, said on WQYK-AM that Gruden is something less than a swami.
"I won't watch (the show)," King said. "I disagree with the premise of the show. The premise is that Gruden is some quarterbacks guru and that having him as a destination for a rookie QB is the ideal situation for a rookie and that just hasn't proven to be the case."
During a conference call Tuesday, Gruden admitted he came up short in mentoring King.
"I did fail miserably in developing Shaun King," he said.
Stephen Holder of the Bucs Beat says King wasn't Gruden's only failure.
"We don't usually get involved in mudslinging, but this seemed like fair game because one of the biggest criticisms of Gruden was his inability to identify and develop a young quarterback as a long-term starter. The truth is, had Gruden done so in Tampa Bay, he might still be coaching here."
(Sources: Game On and TampaBay.com)
Comments