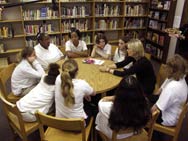 Quoting Phyllis McGrady's memo:


"I am pleased to announce that Diane Sawyer and ABC News have been awarded this year's Robert F. Kennedy Journalism Award in the Domestic Television category for our reporting on foster care, 'A Call to Action: Saving Our Children.' This prestigious award is given for the outstanding reporting of the lives and strife of disadvantaged people in the United States…"

"Spearheaded by Diane, ABC News made the commitment to devote two days of programming in June, 2006 to the important national story of foster care. With additional reporting from Chris Cuomo and Cynthia McFadden, our network issued a Call to Action: to examine the foster care system, and challenge ourselves and to ask — what are we doing wrong, and how can things be better?


With ABC News combining our resources through reports on GMA, 20/20, World News, Nightline and ABC News Digital, it showed what a truly powerful impact we can make. I am thrilled The Robert F. Kennedy Journalism Award chose to honor us for the rare and brave look we took at foster care.


Thank you to all of you and congratulations."
Comments