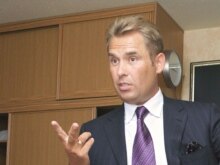 In a case that will no doubt be watched around the globe, Russian writer Pavel Astakhov is facing possible libel charges for the contents of his novel RAIDER, reports RadioFreeEurope. Moscow city prosecutors have already questioned Astakhov at the behest of Ivan Glukhov, head of the city police's main investigative directorate. According to Glukhov, the novel "contains numerous insulting and libelous deliberations" about the directorate, and defames the reputation of Russian police in general.
The author's lawyer, Mikhail Burmistrov, strongly disagrees. He tells RFE/RL's Russian Service that the issue of police corruption is nothing new — and is even openly addressed by high-ranking officials in Russia. Therefore, Burmistrov says, his client's book is simply touching on a recognized problem.
"[Astakhov] is not saying anything new, just highlighting some problems more clearly," Burmistrov says. "And, what's most important from a legal perspective, he does not mention a single concrete individual. This is really a work of fiction. And fictional work is that is created by author's imagination."
Some analysts believe that there are deeper motives behind this case — that it is intended to serve as a warning to authors by holding the threat of prosecution for what they write over their heads. "Of course this worries me," says Sergei Lukyanenko, Russia's most popular science fiction writer. "Because it's easy to cross the line between observing the law, which is an essential part of any civilized country, and abusing the rights of ordinary citizens, abusing freedom of speech, and so on. This is a very difficult thing — and in the struggle to protect these laws it would be easy to overstep the mark and start to limit a person's right to express himself freely." Prosecutors are expected to decide within a week whether to move forward with charges against Astakhov.