After more than three decades, meteorologist Andy Avalos is retiring from Chicago NBC-owned station WMAQ at the end of the month.
Alicia Roman (pictured with Avalos) will replace him as soon as he steps down.
Avalos first started working in Chicago at ABC-owned WLS before joining WMAQ in 1994. He left the business for a few years to run a pancake house before returning to local TV and WMAQ in 2003.
Station manager and vp of news Frank Whittaker said Avalos is "one of the nicest people in the business."
"We will miss him. Meanwhile, we're thrilled Alicia is taking up the morning newscasts," Whittaker said. "She has certainly earned this promotion. Her experience has played a key role in our weather team's commitment to keep Chicagoans safe."
Roman will take over as primary meteorologist for the morning newscast beginning Monday, Aug. 30. She joined the station from Indianapolis 10 years ago.
"I very much realize, in my new role, how important it is to provide local viewers with an accurate forecast and maybe a laugh or two," said Roman. "I feel so fortunate to have worked alongside one of the most professional and knowledgeable meteorologists, not only in Chicago, but in our field. Andy is more than a mentor to me, he is a great friend."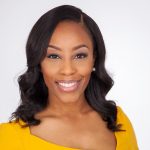 As Roman steps into her new role, Iisha Scott (left) will be the station's newest weekend morning meteorologist. Scott last worked at WCNC in Charlotte, N.C. as the weekend meteorologist. Her first day is also Aug. 30.