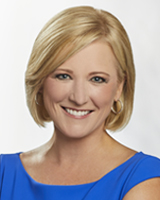 Sarah Bloomquist has been named co-anchor of the 12 p.m. and 4 p.m. news on Philadelphia ABC-owned station WPVI.
"ICYMI. Big news for me today. I am officially the anchor of the noon and 4 pm newscasts @6abc!" Bloomquist wrote on Twitter. "So excited. Looking forward to great adventures alongside my friend, @briantaff6abc and the rest of the #ActionNews team!"
Bloomquist, who has been with the station since 2002, will co-anchor alongside Brian Taff, Alicia Vitarelli and meteorologist Adam Joseph.
She replaces Jeannette Reyes, who left WPVI in November to work at WTTG in Washington, D.C.