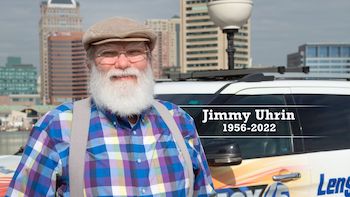 Popular Baltimore traffic reporter James Uhrin has died. He was 65.
According to WBFF, Uhrin's family said he died of an apparent heart attack Saturday morning at his home.
Uhrin was better known as Traffic Jam Jimmy, Fox Baltimore's morning reporter who gave traffic updates live from the road in the station's MobileTrak.
"Jimmy was one of the great men in broadcasting. A credit to his profession and one of the finest human beings that I had the pleasure of working with," said Sinclair Broadcast Group executive chairman David Smith.
Uhrin got his start while he was still a student at an electronics school run by Sinclair Broadcast Group founder Julian Smith—and began working for Smith part-time. He joined WBFF in 1976 and moved to the news team in 2012.
"One of the nicest guys that you would ever meet," said Dwight Weems, director of Corporate Production. "He was a wonderful person who has touched so many people in our community. This is a huge loss. It's a painful day for all of us. He will be missed."
Every holiday season, Uhrin would dress up as Santa Claus and deliver holiday cheer to sick children in Baltimore hospitals.
"Jimmy was a great man who was always there for his friends. There are so many great memories. For the last 48 years Jimmy, Dwight Weems, Sharon Wylie and I have worked together at Channel 45," said president of Technology Del Parks. "Starting on the Captain Chesapeake show where he played Mondy the Sea Monster and building our TV station in Pittsburgh in 1977, Jimmy was a true-blue friend that could always be counted on for his good humor and unselfish manner. I just spoke to him the other day about coming to our house for a visit. I will miss him terribly."
"Jimmy personified hard work, dedication, commitment, loyalty and old Baltimore. He was blessed with family, old-fashioned values and friends," said Sharon Wylie, manager of Public Affairs for WBFF, who had worked with Uhrin since 1977. "Jimmy was always ready with a helping hand, a laugh, a story. He was a mentor, a role model and most of all a champion to so many. Our hearts are heavy, but we will always treasure the gift of this wonderful, charismatic character."
"He had the amazing ability to bring out the best in everyone. He loved his family, colleagues and Baltimore. He was one of a kind with a heart of gold," said vice president of news Scott Livingston.
Uhrin is survived by his wife, Marie, his three children—Greg, Martin, and Jess—and six grandchildren.
Sad news from the FOX45 family. James 'Traffic Jam Jimmy' Uhrin has died.https://t.co/0xsy7nbIVf pic.twitter.com/T7DaDLcat2

— FOX Baltimore (@FOXBaltimore) May 8, 2022