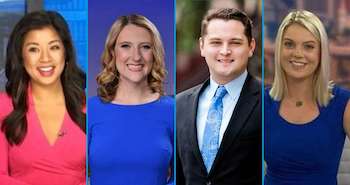 The Albany, N.Y. market has seen the departure of four local TV journalists in five days.
The Times Union said the departures started with Jesse MacWilliam (second from right) from Spectrum Albany and ended with WNYT's Sam Hesler (second from left). The other two leaving are Spencer Tracy (far right) from WTEN and Melissa Lee (far left) from CBS affiliate WRGB.
The recent exodus brings the total number of departures to 11 so far this year.
MacWilliam is moving to Syracuse to work at the Spectrum News outlet there. Hesler has taken a job at Siena College in Loudonville, N.Y. Tracy said she'd announce her next move soon, while Lee is moving to Charlotte after her husband got promoted.