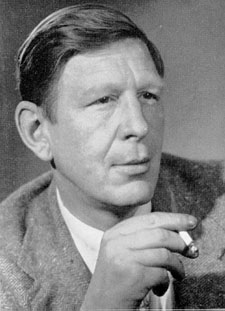 Today marks the 100th anniversary of famed poet W.H. Auden, and PW Daily's Dermot McEvoy has a nice piece on Auden's work and publishing history (and Ron says not to miss Adam Kirsch's appreciation at the NY Sun).
Although Auden's work has been published by Random House since 1934, there's been, in the words of Auden's literary executor Edward Mendelson, a sort of literary tug-of-war between the US and UK for who gets first dibs on him. This old dispute seems to be mostly over by now," he said. "Readers on either side of the Atlantic who prefer Auden's early poetry—before he left for America in 1939—tend to think of him as British; readers on either side of the Atlantic who prefer his later poetry tend to think of him as American."
Though the centenary will be "low key," there are a number of new volumes in the pipeline. Modern Library and Vintage have published COLLECTED POEMS and SELECTED POEMS, respectively; Princeton University Press, which has six Auden titles, will publish Volume III of THE COMPLETE WORKS later this year. "The complete works editions are primarily for an institutional market and libraries," said PUP editor Hanne Winarsky. "But the volumes are also bought by enthusiasts as they become available. That's one reason we've done some things out of the complete works series, such as Lectures on Shakespeare and Juvenilia—these are newly published works that general readers want to see."
As part of the promotion for the Selected Poems, Mendelson will be taking part in a five-city tour. He will also be taking part in the 92nd Street Y's panel on March 5 as well as a Yale event tonight. Speaking of tonight, the Cooper Union has assembled an all-star lineup to celebrate the centennial, including John Ashbery, Michael Cunningham, Katha Pollitt, Francine Prose, and scads more literary talent.