Fans attending the Golden State Warriors vs. San Antonio Spurs game at Oracle Arena in Oakland on Saturday were in for some seriously immersive advertising at halftime.
A special tarp was pulled across the court, the lights went down, and a two-minute video for the video game God of War was projection-mapped on the court, with part of the story told on the Jumbotron above—all courtesy of PlayStation and agency BBH.
The experience was dubbed "War on the Floor," and that's just what it depicted: The floor of Oracle Arena suddenly became a snowy Nordic landscape, and the game's father and son duo, Kratos and Atreus, were seen battling the elements as well as monstrous foes that put the visiting Spurs players to shame.
Check out video footage of the experience here:
NBA arenas have become high-tech meccas in recent years, but BBH still called "War on the Floor" a first-of-its-kind experience. And it was quite the collaboration—BBH and PlayStation worked with projection company Quince Imaging, game developer Santa Monica Studio and post-production company Platige Image on the high-profile project.
The experience was simulcast on Facebook Live, and 30 seconds of it aired as a commercial on ESPN.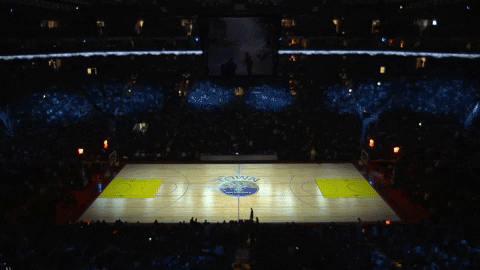 "This was about doing something a little different," Gerard Caputo, chief creative officer of BBH New York, told AdFreak. "It wasn't about putting another game trailer out. It wasn't about buying more media. It was about doing something different to surprise people, to get some buzz, to give people more of an immersive experience. Gaming is an immersive experience. You can communicate the story, or functional things around gaming. But to be able to have the experience be a little more forward, where people can experience it together, that's what was driving this."
"We are always looking for our games to grow and transcend into different mediums and attract new fans," added Asad Qizilbash, a marketing vp at PlayStation. "With our God of War 'War on the Floor' activation, we had the opportunity to work with the Golden State Warriors and offer our fans an immersive experience to bring the story of Kratos and his son to life in advance of the game's April 20 release available only on PlayStation."
CREDITS
Brand: Playstation
Film: War on the Floor
Product: God of War
Campaign Name: Greatness Awaits
Client:
Eric Lempel, Senior Vice President & Head of PlayStation Network
Asad Qizilbash, Vice President, Marketing
Mike Webster, Director of Marketing
TJ Consunji, Senior Brand Manager
Josh Sepielli, Manager, Product Marketing
Brent Gutierrez, Marketing Specialist
Tiffany Chin, Brand Manager
Morgan Haro, Marketing Program Manager
Michael Brynteson, Senior Director of Video Production
Peter Hathaway, Senior Manager of Production & Line Producer
Jamie Bafus, Casting & Talent Manager
Agency: BBH New York
Gerard Caputo, Chief Creative Officer
John Patroulis, Creative Chairman
Hugo Bierschenk, Group Creative Director
Dean Woodhouse, Group Creative Director
Daniel Bonder, Group Creative Director
Dave Brown, Group Creative Director
Diego Fonseca, Associate Creative Director
Taylor Marsh, Associate Creative Director
Kate Morrison, Head of Production
Corinne Porter, Content & Experiential Producer
Librado Sanchez, Director of Business Affairs
Brett Edgar, Head of Account Management
Kendra Schaaf, Group Account Director
Johnny Skwirut, Account Manager
Kendra Salvatore, Head of Strategy
Dylan Fauss, Strategist
Darus Zahm, Group Comms Planning Director
Zack Green, Comms Strategist
Justin Marciani, Project Director
Cameron Wells, Project Manager
Production:
Projection Event Production Company: Quince Imaging
Executive Producer: Scott Williams
Lead Projection: Jay Hutchison
Project Producer: Eric Gazzillo
Projectionist: Evan Doss
Media Server Operator: Liam O'Hanlon
Projection Design: Anthony Magdon
Post-Production Company: Platige Image
Director: Tomek Bagiński
Executive Producer: Zicz
Producer: Justyna Supernak
VFX Supervisor: Kamil Pohl
Art Director: Michał Niewiara
Motion Capture Studio: Sony Interactive Entertainment Worldwide Studios
—PDSG Visual Arts
Motion Capture
Senior Manager of Production: Neil Ingram
Senior Manager of Motion Capture: James Scarafone
Project Manager, Motion Capture: Teresa L. Porter
Motion Capture – Los Angeles
Manager, Motion Capture: Stephen Olsen
Motion Capture Studio Supervisors: Matt Bauer/ Bill Beemer
Motion Capture Lead Studio Technician: Ryan Beeson
Senior Motion Capture Studio Technician: Anthony Pintor
Motion Capture Studio Technicians: Matthew O'Callaghan/ Jeffrey Price/ Sean Sterling/ Wesley Welcomer/ Charles Searight
Key Set Production Assistants: Walter Gray IV/ Andrew Marroquin
Engineer, Motion Capture: Mariah Hale
Production Coordinator, Motion Capture: Cristina Robles
Stage Coordinator, Motion Capture: Keith Presswood
Original Music Composition:
Composition: Bear McCreary
Producer: Peter Scaturro/ Keith Leary
Engineering and Production Manager: Joel Yarger
Engineering: Anthony Caruso/ Steve Kaplan/ Nick Spezia
Editing: Andrew Buresh
Orchestrated by: Edward Trybek/ Henri Wilkinson/ Jonathan Beard
Copyist: Andrew Harris
Scoring Coordinators: Sam Ewing/ Kaiyun Wong
Scoring Assistants: David Matics/ Andrew Ransom
Assistant to the Composer: Marisa Gunzenhauser
Orchestra Contractor: Alan Umstead
Vocal Contractor: James Fitzpatrick for Tadlow Music
Recorded at: Ocean Way Nashville Recording Studio, Nashville TN/ Smecky Music Studio, Prague Czech Republic
Sound Design: Yellowcab studios
Lead sound designer: Olivier Ranquet
Sound design producer: Corinne Binion
Post Mix: Sound Lounge
Sound Mixer: Rob DiFondi
Audio Producer: Liana Rosenburg