OkCupid is DTF, but not like that.
The dating site rethinks that blunt old acronym, originally meaning "down to fuck," by making it the centerpiece of a new campaign from Wieden + Kennedy New York—with the F word replaced by dozens of enlightened alternatives, leading to phrases like "down to feel fabulous," "down to forget our baggage" and "down to fight about the president."
The point being: Dating can and should be about more than hookups. The tagline is, "Dating deserves better."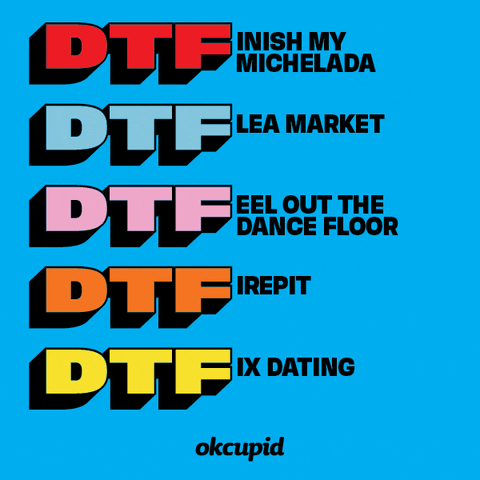 The headlines are matched with fun, brightly colored photographs. Several of the ads also have a political message, adding to the already provocative use of "DTF" as a theme. It's a highly artistic campaign, too—W+K worked with artist Maurizio Cattelan and photographer Pierpaolo Ferrari, the creators of Toilet Paper magazine, on the ads.
The campaign marks the latest attack on dating culture, which has come to seem dehumanized in the binary, swipe-left-or-right age of Tinder. (Other dating apps, including Hinge, have also based recent ads around fostering deeper connections between users.)
OkCupid CMO Melissa Hobley tells AdFreak that the new campaign signals the brand's commitment to being focused on substance and depth, while also reflecting the issues and passions that people care about.
"In the current political and social climate, we felt a responsibility and saw an opportunity to play a part in changing the conversation about dating culture and empowering each individual to reclaim the meaning of DTF and make it theirs," she says.
OkCupid aims to achieve substance and depth through the app's features. It asks users more than a dozen questions while setting up a profile and recently launched OkCupid Discovery, which lets users search by passions and interests. It aims to achieve relevance through the brand voice, having found traction by leaning into politics over the past year—including adding a "Trump Filter" to its list of questions.
"The response to this blew us away, and most importantly, signaled how important it was for people to be able to talk politics in dating," Hobley says. "We do this better than anyone, and regularly add political questions into the OkCupid experience."
The focus on politics is readily apparent in several of the new ads:
The ads are aimed at anyone who wants to bring their full selves to dating. But Hobley says they may resonate especially with women, who are "aware that the phrase DTF was used historically in a negative way. There's power in taking that back and making it yours."
In terms of craft, the W+K creatives said the campaign is meant to feel playful and positive, as a counterpoint to where so much of the dating scene is headed.
"We set out to really explore what happened to chivalry and courtship and how modern-day dating seemed to be on a bad trajectory," says copywriter Ian Hart. "When we say dating deserves better, what we're really saying is people who date deserve better. Because I mean, they really do. Modern dating treats emotions like a disposable commodity. Anyone who's been single knows this. It's an aspiration to treating people like people."
Cattelan and Ferrari were the perfect collaborators in bringing this positive message to life.
"Originally when we began crafting the idea, we were thinking it'd be cool to explore bold simple typography," says W+K art director Jessica Shriftman. "But the head of art production introduced us to Toilet Paper magazine, and immediately we thought that a ballsy style of photography would compliment the work even more and show couples engaged in fun activities."
Hart says the campaign "is a celebration of who we are as individuals in the dating sphere—DTF celebrates what makes each of us unique. We needed the visuals to reflect this. Basically it's sort of this 'Imagine if dating were…' thought that's very playful and joyful. I think Maurizio and Pierpaolo's work creates visuals that are, by very their nature, optimistic and pleasant, which allows the content matter to venture into a more surrealistic world without losing its positive message."
---
Don't miss the Brandweek Sports Marketing Summit and Upfronts, a live virtual experience Nov. 16-19. Gain insights from leading sports figures on how they navigated a year of upsets and transformation and what's in store for the coming year. Register.