When you're running on a treadmill like a compulsive little hamster, or just going about your daily business, you may imagine yourself as the star of your own modern Super Mario-style video game, bounding across a brightly colored screen and leaping dexterously over obstacles to rack up points.
But lucky folks in China have the chance to be just that, thanks to a delightful little stunt from Nike and Wieden + Kennedy Shanghai.
To highlight the characteristics of the shoe maker's new "Epic React" model—which contains technology the brand describes as bouncy, soft, light and durable—the agency set up a rig that let consumers test drive the shoes with a special video game called "Reactland."
In the case study video, players arrive at the glowing venue, lace up a pair of sneakers and step in front of a camera to create a digitized avatar. Then, they hop on a treadmill in front of a giant screen and jog away, leading a pixelated version of themselves across a variety of landscapes from around the world—over city rooftops, through forests and deserts, past dancing giant pandas and the Great Sphinx of Giza.
A handheld trigger controller lets them jump the their characters onto springboards and over planes, presumably to further reinforce the bounciness of the shoe (without the safety and liability implications of asking people to actually jump while on a treadmill).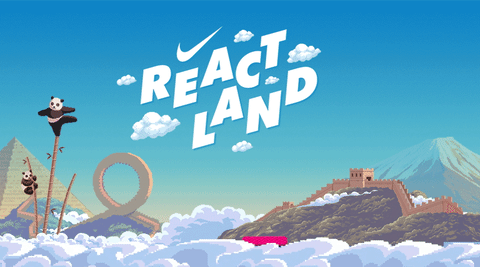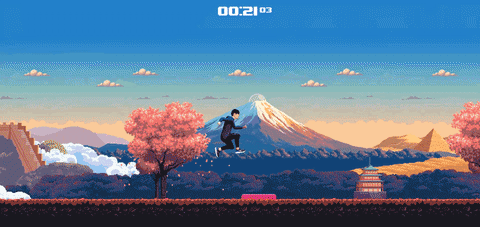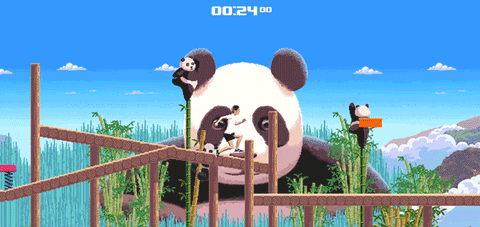 In all, it's a fun, interactive and memorable way to demonstrate the product, and a great on-brand twist on the 8-bit-runner marketing category. Naturally, participants get a 10-second video of their gameplay so they can share it on social media. The game is available for visitors to try in select stores in Shanghai, Beijing, Guangzhou and Chengdu.
It's also consistent with Nike's general efforts in recent years to gameify even solo sports like running through its app ecosystem, though taken to its extreme, that could start to look uncomfortably like Black Mirror.
In a broader sense, that theme—running as a form of play—might've started even earlier, with a famous TV ad back around 2002.
CREDITS
Nike China
VP Marketing: Steve Tsoi
Senior Director of Brand Experience: Simon Lee
Director of Greater China Brand Communications: Che Lin
Senior Brand Manager: Miao Wang
WIEDEN+KENNEDY SHANGHAI
Executive Creative Director: Ian Toombs, Vivian Yong
Creative Director: Okan Usta, Hesky Lu
Art Director: Josh King
Copywriter: Aier Xu
Head of Integrated Production: Sanne Drogtrop
Creative Technologist: Rhys Turner
Interactive Producer: Xiong Xiong
Producer: Fang Yuan
Tech Developer: June Xie
Senior Planner: Leon Lin
Planner: Carina Huang
Business Director: Dino Xu
Senior Account Manager: Qinna Ye
Senior Account Executive: Xueer Ren
Head of Project Management: Nicole Bee
Business Affairs: Jessica Deng, Kathy Zhan
Head of Designers: Fish Ho
Designer: Helen Yu
PR Manager: Evelyn Hsu
External Credits:
Production Team
Executive Producer/s: Marc D'Souza
Producer/s: Yi Nong Dong, Martino Butti
Project Manager/s Feodar Voloshin, Mengwei (Grace) Guo
Creative Team
Game Director: Alexander Horton
Creative Director: Yifei Chai
Pixel Artists/s Gustavo Viselner, Bruno Moraes, Romain Courtois
Game Designer: Jakub Jakubowski
Art Director/s Karol Goreczny, Mariusz Kucharczyk
Product Design: Yu-Chang Chou
UX Lead: Silvia Massotti
Designer: Mitch Fernandes
3D Model: Julien Didisheim
Character Animation: Virgil Tanasa
Character Rigging: Brian Horgan
Sound Design: Jamie Finlay (Sound Designer)
Development Team
Tech Lead: Andrew Oaten
Hardware Developer/s: Christian Bianchini
FE Developer/s: Payulina Banasiak-Pietraszek, Kostas Tsergoulas
Head of QA: Dominic Berzins
Other Staff
QA Staff: Tom Watson, Rozzie McCann, Adam Mingay, Evi Nathanaili,
BE Developer/s: 31ten (WeChat integration)
FE Developer/s: Maja Matusiak
Tech Support: Maciej Dudek, Jorge Esteves, Ivan Tchekashkin, Cristian Bovino,
Alexandre Schnoebelen, Senthil Seveelavanan
Producer/s On-Site: Lin (Rainie) Ma, Bei (Bella) Yu, Ming Xuan (Vincent) Zhang
Production Assistant: Rose Hung
Post Production – Animation
Company: Dirty Robber
Executive Producer: Jason Puris
Producer: Jamie Qualtrough
Creative Director: Nick Frew
Animator: Hombre McSteez
Editor: Oliver Riley-Smith
Creative Studio: Curious Beast
EP: Colin Brown
Producer: Colin Brown
Director: Dante Zaballa
Lead Animator: Dante Zaballa
Sound design: Josh Derry
---
Don't miss the Brandweek Sports Marketing Summit and Upfronts, a live virtual experience Nov. 16-19. Gain insights from leading sports figures on how they navigated a year of upsets and transformation and what's in store for the coming year. Register.