We're going to wrap up our coverage of agency holiday cards today with a fourth batch of entries—and then later today we'll pick our five favorites.
Here are links to all the cards we posted this week:
Agency Holiday Cards 2017: The Most Creative Farewells to the Year
Agency Holiday Cards 2017: The Most Creative Farewells to the Year (Pt. 2)
Agency Holiday Cards 2017: The Most Creative Farewells to the Year (Pt. 3)
Agency Holiday Cards 2017: The Most Creative Farewells to the Year (Pt. 4)
Below, check out some new ones. Thanks to everyone for sending them. We didn't get to them all, but we hope we found some good ones that you enjoyed.
AKQA – "Tree of Lights"
Download AKQA's festive Tree of Lights app, and you'll be able to place an interactive, 360-degree augmented reality tree anywhere you please.

BarrettSF – "$5"
This is cheating, but BarrettSF makes the list anyway.
BBH New York – "$antaCon"
$antaCon is a 90-second heist film written and directed Hugo Bierschenk & Dean Woodhouse, two creative directors from BBH New York known as Hugo & Dean. The story is based on a real event in which a thief robbed a bank dressed as Santa. This is Hugo & Dean's first foray into directing. They worked alongside BBH New York's internal production company Slaughterhouse.
Colle McVoy – "Finding Your Next"
For its annual agency holiday gift, this agency created an artfully designed planner that it hopes inspires staff, clients and friends in 2018 and beyond. With the theme of "Finding Your Next," the planner is filled with inspirational quotes and task reminders to help you conquer the big and little steps that help make your next your now.
Connelly Partners – "Decide to De-side"
With the country so divided, this agency tried to set an example for unity. "Decide to De-side" includes a desktop, mobile and print version. Viewing one side of the message, or the other, reveals negativity. But combined, they reveal a message of unity.
On desktop, as you slide the cursor from left to right, you see both sides of the message, while the middle of the screen shows both messages. On mobile, as you tilt your screen, the same animation occurs. The printed version folds to show the complete message of unity.
Copacino + Fujikado – "Gen Z Holiday Card"
Here's another cute holiday video with kids. Seattle-based Copacino+Fujikado brings in a talented Gen Z team to create its company holiday card—showcasing up-and-coming talent while poking fun at the industry's obsession with youth. A "9 Under 9" feature doesn't sound like a half-bad idea, though.
The Garden – "The Most Wonderful Holiday Video"
Toronto agency The Garden's holiday video turns a rather negative political narrative into a very positive holiday message and reminds us all that no matter how bad things get, you can always find a silver lining. Sing along!
Iris Singapore – "Jolly Trolly"
This holiday campaign turns the nastiness of online comments about the ad industry into something positive. Iris found 10 of the ugliest comments and turned them into beautiful original notebooks to inspire your brilliance in 2018. You can purchase individual notebooks from jollytrolly.co or the whole collection in a bundle for your team. All proceeds from the sale go directly to The Red Pencil, an NGO that recognizes the therapeutic importance power of creativity for all ages.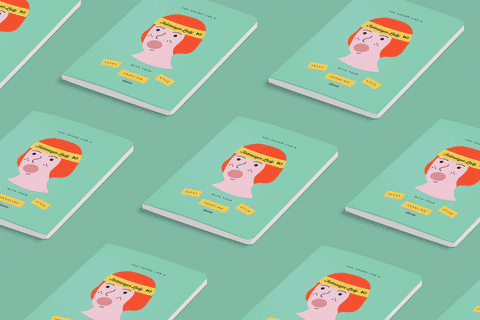 J. Walter Thompson Worldwide
This year, J. Walter Thompson decided to allocate the holiday card budget to do something intimately related to the Christmas spirit—buying food for the Syrian refugees in partnership with Save the Children. So, the holiday card is just the image below. The proposal came from JWT Brazil creative directors Rodrigo Rocha, Andre Mezzomo and Humberto Fernandez.
R/GA Austin – "Connected Snow Globe"
R/GA Austin made snow globes for all 17 other R/GA offices around the globe. Every shake of one snow globe sends a twinkling "hello" to all the other offices.