Buy Me Some Peanuts and Cracker Jack
How this classic Americana snack became the longest-running product placement in the country's history. By Robert Klara
Business partners will often work for years to build a successful brand. The case of Cracker Jack—that century-old mishmash of peanuts and caramel-coated popcorn—is no exception. But Cracker Jack's story has a unique twist: the inadvertent contribution of a stranger whose sudden inspiration would transform the brand from snack into legend.
In 1872, Louis Rueckheim was a German immigrant who joined his brother Frederick in Chicago to set up a popcorn business. Sold from carts equipped with steam-powered poppers, popcorn had been a hugely popular snack since the Civil War, and F.W. Rueckheim & Brother prospered. But two decades in, the brothers decided it might be time to try to differentiate their commodity product. In 1896, after shelving a too-sticky prototype (which the brothers first sold at the Chicago World's Fair three years earlier), Louis perfected a way to coat the popcorn with a dry molasses shell that mixed well with peanuts and didn't stick to people's fingers.
He called it Cracker Jack, borrowing from a contemporary idiom ("Cracker Jack" was a late-19th-century analog to today's "da bomb"). Natural-born marketers, the very German Rueckheims possessed an innate feel for American consumerism. They came up with the idea to sell their snack at baseball games, adding a toy prize in each box.
What they didn't have was a jingle.
That would come in 1908, when a New York lyricist named Jack Norworth was riding the subway and noticed an ad for a baseball game at Manhattan's Polo Grounds. Then and there, he began scribbling the lyrics for "Take Me Out to the Ball Game" on the back of an envelope. Though Norworth didn't know the Rueckheim brothers (he'd never been to a baseball game, either), he knew enough to pen the line: "Buy me some peanuts and Cracker Jack."
And it's that tune—as well as baseball itself—that's helped Cracker Jack keep its honored place on the Americana shelf. "The heritage is so strong because people grew up with it," said Jeannie Cho, vp of marketing for Frito-Lay, which acquired the brand in 1997. "Through generations, people have enjoyed baseball games with their families. It also doesn't hurt that it's part of the song."
Adds Mintel analyst Caleb Bryant, that song likely gives Cracker Jack the longest-running product placement in American history. "The only other thing that American," he added, "would be if Coca-Cola were mentioned in 'The Star Spangled Banner.'"
Not that there haven't been a few whiffs at bat. Frito-Lay's 2004 decision to replace the famous box with a bag prompted the New York Yankees to dump Cracker Jack in favor of—sacrilege!—Crunch 'n Munch. (Fans cried foul, Frito-Lay brought the box back, and all was well.) More recently, the famous toy prizes inside—doodads like puzzles and temporary tattoos—bowed out, replaced by AR-equipped stickers kids can use to play baseball-themed games on their phones. Youngsters may not know the difference, but many older fans bemoaned the passing of a tradition.
Even so, according to Prophet chief growth officer Scott Davis, the famous snack has made it into extra innings because of its consistency, familiarity and, of course, good taste: "Cracker Jack, despite the years that have passed and the generations that may have passed it by, still has relevance."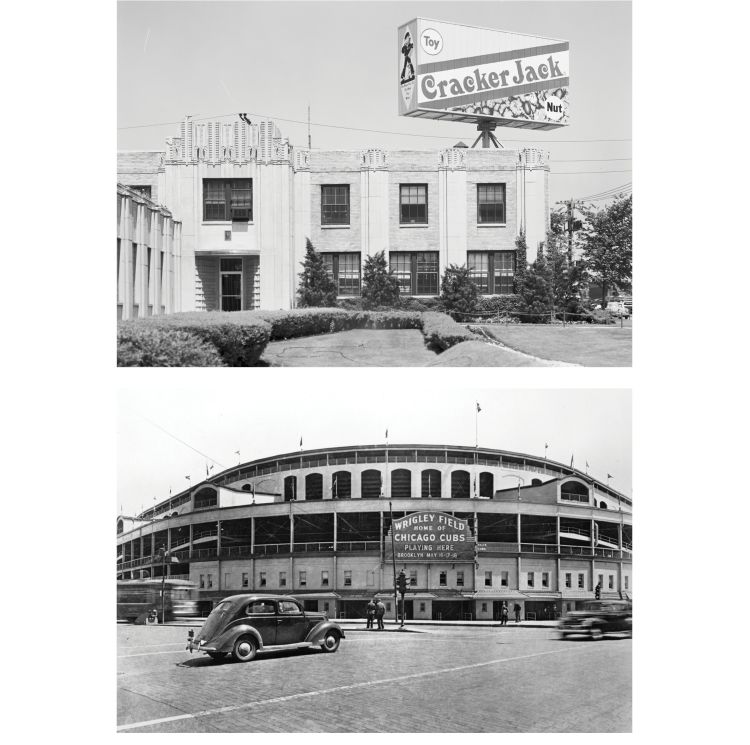 Cracker Jack's 66th Street plant in Chicago was in its heyday in this 1958 photo, but the snack had been around since 1893 (top). Selling Cracker Jack at baseball parks (bottom) made it famous.
When Frederick Rueckheim (right) began selling popcorn and his brother Louis (left) invented a way to add a caramel coating.
Decades of colorful advertising and packaging kept it in the public eye.
Cracker Jack promised "A Prize in Every Box" starting in 1912. It was a marketing tool ahead of its time: a low-cost incentive to buy the snack and the forerunner of those that later proliferated in breakfast cereal boxes. Premiums ran the gamut from rings to puzzles (left). All of them remain highly collectible, but none more valuable than the baseball cards introduced in 1914. It all came to an end in 2016, when digital technology replaced the cheap-but-charming tokens.