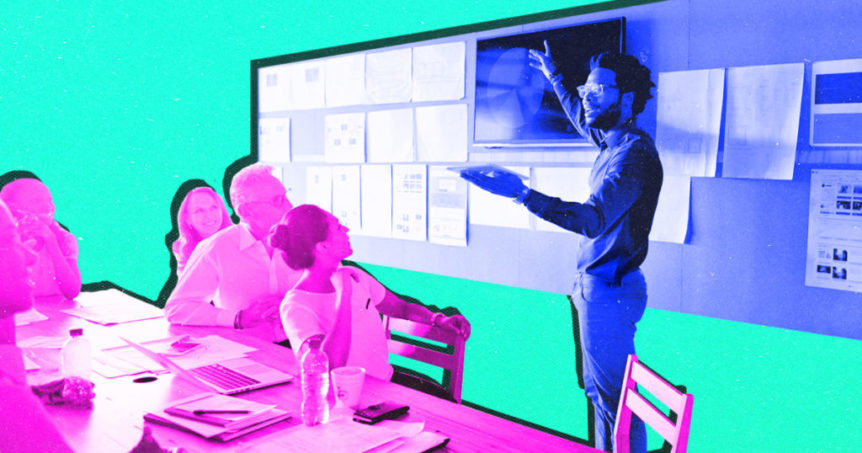 This is part of Adweek's series covering fellowship programs at agencies. As agencies continue to face a talent crunch, many recent graduates or career changers are seeking a way into the industry. Here, we cover programs for entry-level marketers at top agencies.
The Building Leaders & Creators, or BLAC, Internship is now accepting applications to join its summer 2023 cohort, which will run from May 22 to August 11, 2023.
This program is designed for applicants who identify as Black or persons of color. It's unique because, like the 4A's MAIP program, it's run by a consortium of agencies that host interns. Ahead of its third season, BLAC continues expanding, with new agencies joining the consortium.
Member agencies are independent U.S.-based shops in the small-to-mid sized category, with employee headcounts between 20 and 150. They must have capacity to host at least two BLAC interns in departments including account management, art direction/design, copy, strategy or production.
"Our program is unique in that we have built a connected network for our interns and alumni, as well as for our agency partners who benefit from shared opportunities and resources to support industry-wide change," said Nicolet Gatewood, executive director of BLAC, in a statement.
Agencies pay interns at least $15 an hour for 29-hours each week, over the course of the 12-week program. Importantly, all member agencies must participate in BLAC's mandatory DE&I training course.
Since the program's 2020 founding, it's grown quickly; it's already graduated 90 interns across 25 member agencies.
"We believe the world is missing out on immeasurable creativity when Black talent isn't seen or heard," Gatewood told Adweek in an email.
Brands including Spotify, Ferrar, BECU and Sutter Health sponsor the program. Another partner, Procter & Gamble, provides BLAC interns with real briefs to work on. This year, interns will team up from July 27 to August 4 to develop and pitch creative concepts directly to P&G brand representatives.
"I learned of the ins and outs of agency life and was even given the opportunity to play the role of art director when working with P&G's Olay Skincare," Tyriq Duckwyler, a former BLAC intern told Adweek. "Given the program's short timespan, I learned more than a year's worth of industry experience while also getting to network with people from all over the U.S.," he added.
The program caps with a career fair that's now scheduled to take place from August 7 to 11. There, interns will attend two days of workshops, update their resumes and portfolios, attend speaking sessions and network with agencies and brands that partner with BLAC. In its second season, BLAC interns and alumni went on a collective 456 job interviews spanning 45 agencies and brands.
TLDR: Check out program details, including how to apply, in our Q&A with BLAC below. Responses have been lightly edited for clarity and style.
When did BLAC found the program?
11 independent agencies founded the program in 2020.
How many cohorts do you welcome each year?
One summer cohort.
How long does the program run for?
12 weeks.
What does the program pay?
Each participating agency sets their market rates, but interns receive at least $15.
How many fellows do you hire or plan to hire for each class?
We had 59 interns in the previous cohort.
What percentage of your most recent cohort are historically underrepresented?
Our program is for candidates who identify as Black or BIPOC.
Is a college degree required for your program?
No.
How long is the application process from start to finish?
Interns submit a two-minute video in which they can showcase their creative thinking. BLAC shares the videos with participated agencies in the candidates' area and interviews follow.
What do you require from applicants as part of the hiring process?
Interested applicants should inquire with hiring agencies, since a consortium of agencies run this program.
What percentage of your fellows receive full-time offers by the end of your program?
70%. We host a job fair at the end of each program and our goal is to place as many interns in full-time jobs as possible.
When are you hiring your next class of fellows? 
Applications are open from Dec. 16 to Feb 16, 2022. Those interested can navigate to the open application portal to apply. Those interested in learning more about the program can visit the BLAC Internship website or contact Gatewood directly at nicolet@blacinternship.org.
Is there a program you would like us to know about? Please reach out to olivia.morley@adweek.com and complete our survey to tell us more.