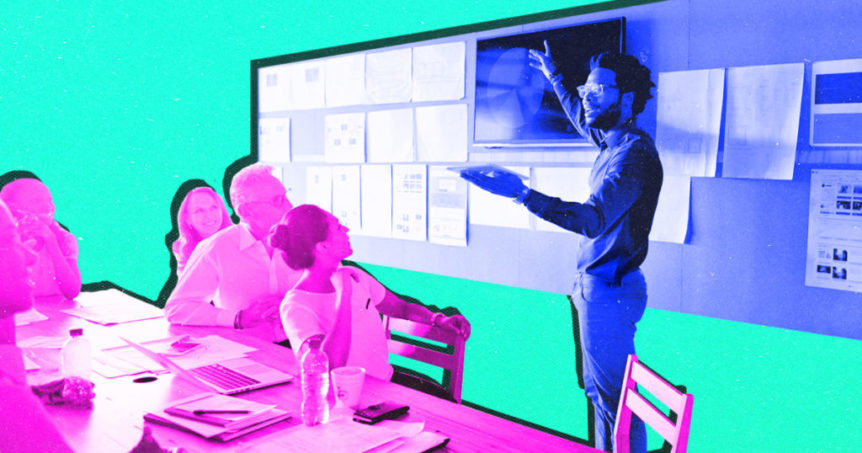 This is part of Adweek's series covering fellowship programs at agencies. As agencies continue to face a talent crunch, many recent graduates or career changers are seeking a way into the industry. Here, we cover programs for entry-level marketers at top agencies. Read the full series.
TBWA\Chiat\Day's Youngbloods program welcomes recent graduates or career changers. Each year, the agency welcomes two cohorts that operate across agency departments. Because of its breadth and reluctance to pigeonhole applicants, Youngbloods is best suited for creatives with varied skill sets.
"It's a little different than an internship, it's a little different than a fellowship," said Meaghan Diamond, TBWA\Chiat\Day executive director of creative recruitment and the head of Youngbloods.
That checks out for Stephanie Sczublewski, TBWA\Chiat\Day LA senior art director and former Youngbloods participant, who told Adweek that compared to previous internships she'd completed, the Youngbloods program felt comprehensive.
"I think I touched almost every client at Chiat, which was great, because you get to meet so many different people and see how different teams work," Sczublewski told Adweek.
Diamond considers applicants with "hybrid" skill sets. This contrasts with ad schools, which sometimes emphasize applicants' creative capabilities over other strengths. "They might play a number of different roles until they really find the groove," Diamond said.
Cohort members take on numerous client projects while simultaneously forging connections with agency department leads. Youngbloods may also curate one of the agency's Disruptor Series podcasts, or play a role in other educational events.
"You get all the good briefs, you get paired with mentors…they really feed into your creativity," said Sczublewski, recalling biweekly workshops, where she learned creative concepts, like typography.
The program's highly-involved nature will work well for applicants that value detail and process. Chiat offers portfolio reviews and prioritized a feedback loop, including midterm and final evaluations.
Project evaluation surveys serve as a "post mortem" analysis of each individuals' work, providing Youngbloods program leaders with crucial context needed to evaluate each member's progress. In other words, the agency creates a paper trail to both avoid misunderstandings and be sure Youngbloods' successes or challenges don't slip between the cracks.
"I think new things and hopefully, new notorious and disruptive work will come out of that from them, from us. I think it'll be amazing," said Diamond. Half of its former Youngbloods cohort received full-time offers from the agency, but Diamond stressed, "This is not like a contest for a job; this is a learning and development program."
TLDR: Check out program details, including how to apply, in our Q&A with TBWA\Chiat\Day below. Responses have been lightly edited for clarity and style.
When did TBWA\Chiat\Day found the program?
2003.
How many cohorts do you welcome each year?
One or two each year.
How long does the program run?
Six months.
What does the program pay?
$25 per hour. Youngbloods also provides some assistance for those requiring relocation.
How many fellows do you hire or plan to hire for each class?
Six.
What percentage of your most recent cohort are historically underrepresented?
In October 2022, we welcomed six new Youngbloods to our winter class. Of this group, 83% are from historically underrepresented communities. Additionally, 66% of this Youngbloods class identify as women.
Is a college degree required for your program?
No.
How long is the application process from start to finish?
Between one and eight weeks.
What do you require from applicants as part of the hiring process?
Submission of work samples, CV and authorization to work in the U.S.
What percentage of your fellows receive full-time offers by the end of your program?
50%.
When are you hiring your next class of fellows?
Applications for our winter program are now closed. The next round of Chiat\Day LA Youngblood applications is expected to open summer 2023. 
Is there a program you would like us to know about? Please reach out to olivia.morley@adweek.com and complete our survey to tell us more.