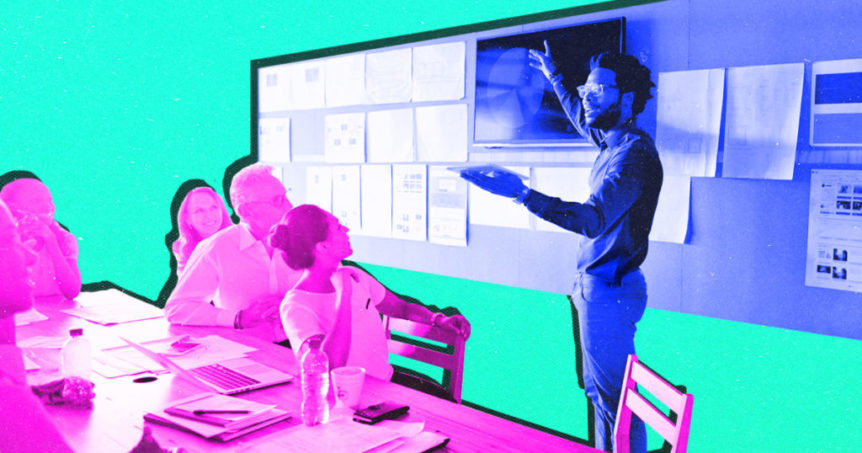 This is part of Adweek's new series covering fellowship programs at agencies. As agencies continue to face a talent crunch, many recent graduates or career changers are seeking a way into the industry. Here, we cover programs for entry-level marketers at top agencies.
Omnicom agency Sparks & Honey founded its Cultural Apprentice Program in 2018. This program is different from others covered in this AgencySpy series, because it is designed specifically for tenured marketers who want to deep dive into the agency's cultural expertise.
"We need to constantly be thinking about how we're bringing in different perspectives," Sparks & Honey CMO Kristin Cohen told Adweek.
It's well-known that ageism still plagues the advertising industry. Sparks & Honey began thinking about how it could combat the problem—and realized that a balanced employee base would be key to capturing cultural insights that span generations and resonate with diverse audiences.
"For us, it was definitely a focus on how we're starting to bring people with much more experience back into the organization, to make sure that we're balancing what our employee base looks like," Cohen said.
Sparks & Honey has received hundreds of applications to the program over the years. The agency decided that it wouldn't put strict parameters around applicant qualifications—the one exception being that applicants must have at least 30 years of experience to be considered. Previous applicants have included senior-level workers across the industry, including CEOs. Some held full- or part-time roles while they participated in the program, while others were retired. Sparks & Honey designed the program to be flexible enough to accommodate those different circumstances.
One applicant told Cohen in an interview that she had experienced ageism in the fashion business and was excited to be part of something that could break the stigma. The Cultural Apprentice program would give her the forum to do that, she told the CMO.
The program offers apprentices and younger Sparks & Honey employees a symbiotic relationship. Program apprentices, with their wealth of experience, can mentor younger staff while younger staff can help apprentices learn new skills.
Gwen Kelly, who came to the program after years spent in executive roles at Walmart, told Adweek that she believed the experience helps apprentices "rewire, not retire"—and compared her experience in the program to the Robert De Niro and Anne Hathaway-led movie, The Intern. "I can tell you, with no reservations at all, [that] I often told my friends that I'm in New York channeling Robert De Niro," she said, adding "I'm also living my legacy with younger people—millennial, Gen Z and beyond."
Kelly was already an expert in multicultural marketing when she came to the program, but the experience gave her a new perspective on how to examine culture. The agency uses its technology to identify societal signals—and then guides its clients on how to interpret them inform brand strategy. The role changed Kelly's approach to working in the marketing industry—and she said she continues to pay attention to these signals, which amplify her success in her current role as community engagement director at the Chicago Opera Theatre.
While the program isn't designed to convert apprentices into full-time employees, the agency has worked with some on an ongoing freelance or part-time basis.
"The Sparks & Honey experience gave me a gift that I knew that I needed, but I didn't know how I was going to go about it," said Kelly.
TLDR: Check out program details, including how to apply, in our Q&A with Sparks & Honey below. Responses have been lightly edited for clarity and style.
When did Sparks & Honey found the program?
It was founded in 2018 to address age-bias, the program was developed for individuals with over 30 years working experience and who have an insatiable curiosity to work for the high-growth, energetic consultancy to analyze signals of change, work with the strategic partnerships and human network team to source and engage relevant experts for briefings, new business and client deliverables.
How many classes of fellows do you welcome each year?
Typically two interns. We had three in 2021 and three in 2022. In 2020, Sparks & Honey welcomed Brenda Whiteman, who brought over 30 years of experience as a writer and editor—and was previously a member of the internal communications team in research and development at the Educational Testing Service (ETS). Shari Foos also joined that year's class. She had previously founded The Narrative Method to address the need for genuine connection in an increasingly technological world.
How long does the program run for?
The program runs between 16-20 weeks, during which the apprentices will develop deep insight mining skills, foster collaborative cross-functional working relationships and exhibit strong cultural insights.
What does the program pay?

Sparks & Honey does pay for this program, although the agency did not provide Adweek with a pay range.
How many fellows/interns do you hire or plan to hire for each class?
The number of apprentices is based on the number of applicants. Previous classes have two or three apprentices.
What percentage of your most recent class of DRO fellows are historically underrepresented?
40% are Black and 100% are women.
Is a college degree required to apply?
No, there is no degree requirement. For the current open position, the program requires over 30 years working experience, with a strong personal network.

About how long is the application process from start to finish?
It takes eight weeks to hire from the point where the applicant is sourced, vetted and pre-screened. We went through 200 applications and 25 made it through pre-screening. Of those, we select two.
What do you require from applicants as part of the hiring process?
A resume and cover letter, three rounds of interviews, a pre-screen and department-specific interviews.
What percentage of your fellows/interns receive full-time offers by the end of your program?
0%, but the program is so valuable we currently have an open position for a full-time roll.
When are you hiring your next class of fellows?
Applications for the main program will open in September for a tentative start date around the end of October. Applicants interested in the future program should attend Sparks & Honey Culture Briefings from 12-12:30 p.m. ET Tuesday, Wednesday and Thursday to get a feel for the work at Sparks & Honey.

You can look for Cultural Apprentice program job openings on the Sparks & Honey website.
Is there a program you would like us to know about? Please reach out to olivia.morley@adweek.com and complete our survey to tell us more.