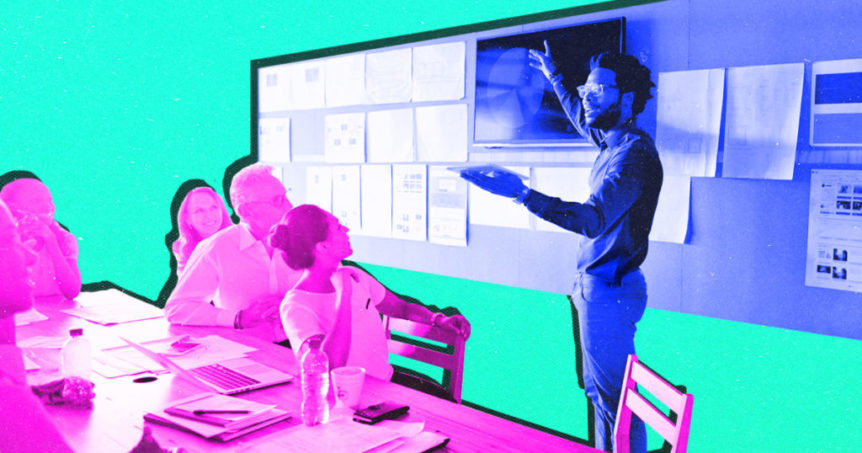 This is part of Adweek's series covering fellowship programs at agencies. As agencies continue to face a talent crunch, many recent graduates or career changers are seeking a way into the industry. Here, we cover programs for entry-level marketers at top agencies.
RAPP Worldwide, part of Omnicom Group, is now piloting a one-year-long salaried program for recent high-school graduates or community college students based in Los Angeles or Dallas, called the Emerging Leaders Program (ELP).
The agency hired one associate for the pilot, but aims to hire up to four for its next cohort. It will begin actively hiring again in spring 2023 and plans to expand the program to all its offices by 2024.
The program is a fast-track into the advertising industry for young people that wish to eschew a college degree in favor of learning on the job.
RAPP landed on the program concept amidst the summer 2020 racial reckoning. "Our management team at that time basically challenged all the employees to really take a look at what's going on," Mark Miller, RAPP's svp, client partner told Adweek.
The agency's leaders considered what it could be doing differently to support youth of color and increase diversity. They drew inspiration from post-high school apprenticeship programs, like coding bootcamps.
"I think there's some structural racism," Miller said of the ad industry.
Miller knew that if RAPP launched a program that would accept young adults, it could remove entry barriers for students who either could not, or did not want to invest in a traditional college experience.
"One of the biggest things I can tell [youth] is that there's another life they can live—that's the big thing," said Christian Wimberly, the pilot program associate at RAPP. "I just feel like I can conquer the world. And many times people like me or people of my skin color don't feel that way. They don't feel like they can conquer. I feel like I can genuinely conquer the world, and the people around me would help me do that," he said.
Wimberly had enrolled in college but ultimately decided it wasn't for him and decided to drop out. He later met a RAPP employee at a youth community rally who introduced him to the agency and led him to apply.
"I had no idea even what an agency was, because while I was in college, I was just taking GE courses," he told Adweek.
Once associates join the program, they spend the first few months learning the basics of professionalism and online applications, easing into client work, getting familiar with workflows and networking with partners and mentors within the organization.
"We can teach anything, you know. As long as we have the time and commitment from the organization," said Miller.
Wimberly recommends interested applicants demonstrate their willingness to learn and said that's what gave him an edge. "It's good to know things, but also please make sure that you let me know that you're willing to learn. That's the biggest thing," he said.
The program is well-suited to curious applicants like Wimberly. After beginning as associate account executive at RAPP, Wimberly changed focus after six months to pursue the program's creative track.
"Sometimes you've just got to see it to know. And now that I see it, there's nothing that can tell me no at this point. And that's a very big trait that I think will push me in so many places," Wimberly said.
TLDR: Check out program details, including how to apply, in our Q&A with RAPP below. Responses have been lightly edited for clarity and style.
When did RAPP found the program?
2021.
How many classes do you welcome each year?
Our ambition is to host up to four associates across two locations throughout each program cohort. That said, we're still in the pilot stage of the program—but we're hopeful that we'll be able to expand the program across all of our U.S. offices by 2024.
How long does the program run?
The standard length of each cohort is one year, but the program is flexible and can be extended based on optimizations and associates' needs. There's also an opportunity for the participants to be hired at the end of the program.
What does your program pay?
The participants are paid above market rate for their entry level positions and salary is based on their professional track, as well as office region. They are also offered up to five thousand dollars for tuition reimbursement. At the end of their cohort period, and if they have achieved the cohort goals, they will be offered a full-time salaried position with benefits.
How many fellows do you hire or plan to hire for each class?
This depends on the candidate pool and criteria, although our goal is to have up to four hires each year.
What percentage of your most recent cohort is historically underrepresented?
100%.
Is a college degree required for your program?
No. In fact, ELP is designed specifically for recent high school graduates or students in community college that do not have the means to a traditional entry into the marketing industry, e.g., college, internship, employment. With ELP, students can build a career in advertising from their natural talent. So, whether they're good with numbers, a creative thinker or a natural-born leader, they have the opportunity to harness their skills without a degree and test out a career in advertising.
How long is the application process from start to finish?
As we evolve the program, the outreach begins during students' senior year of high school, with strategic touch points to the schools we're exploring partnerships with, the students and their instructors. The application process is typically six to eight weeks, however that time is contingent upon application reviews, rounds of interviews and endorsements from instructors.
What do you require from applicants as part of the hiring process?
Based on the professional track the candidate chooses to align, creative, business or tech/analytics, the requirements may vary. Business is about aptitude, soft skills, basic knowledge software application, writing skills and desire and applicability of experience and taught curriculums in school. For the creative track, a portfolio and/or demonstration of artistic design and/or writing skills is requested. A core writing test may be conducted. Understanding and usage of creative software platforms is also requested. For the tech/analytics track, a higher degree of competency is requested for this track. Including demonstration of skills in either programming/HTML development/or aptitude with mathematics. That said, the process is unique to each individual to a degree, because we understand that most candidates may not have background/knowledge of a traditional hiring process and/or the resources to prepare that other working candidates might.
What percentage of your fellows receive full-time offers by the end of your program?
Given that the program launched during the peak of the pandemic, we are still with our first class and fine-tuning the program. The goal is to align and determine with the candidate their desired career progression and determine if continuing with RAPP as full-time staff is appropriate.
When are you hiring your next cohort?
Based on the learnings from the last launch, our expectation is to begin and expand community outreach this school year, with the expectation to hire in spring of 2023. However, if there are candidates that are identified prior 2023, full consideration will be made to bring them on out-of-cycle, as we do not want to miss out on a potentially exceptional candidate. Applicants can apply here.
Is there a program you would like us to know about? Please reach out to olivia.morley@adweek.com and complete our survey to tell us more