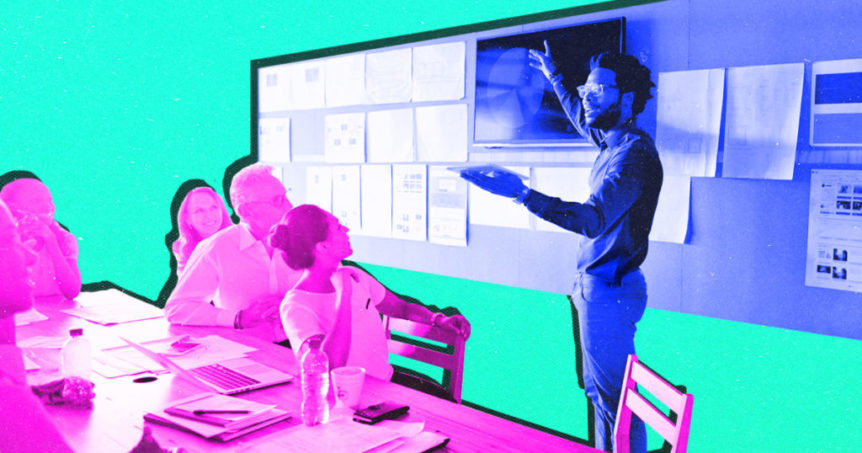 This is part of Adweek's new series covering fellowship programs at agencies. As agencies continue to face a talent crunch, many recent graduates or career changers are seeking a way into the industry. Here, we cover programs for entry-level marketers at top agencies.
People First, the Dawn portfolio agency specializing in influencer marketing, founded its three-month Digital Relational Organizing (DRO) fellowship program in 2019. Since then it has welcomed about 20 fellows—referred to on the job as "organizers"—each year.
Organizers are responsible for recruiting peer-to-peer influencers, or people who agree to promote a People First campaign on their social channels. For one campaign, the agency recruited Asian Americans in Texas to join the Get Out the Vote campaign.
Many People First campaigns are political in nature.
Usually a campaign's focus is on raising voter awareness with the goal of getting more people to the polls. To do that, the agency collaborates with its influencers on messaging and personalizes much of it.
"What we're really asking is for people to unpack a little bit about themselves and their community," said Valerie Cheney, an organizing manager at the agency.
The fellowship is part-time, fully remote and requires organizers to work 20 hours each week, creating an opportunity for students or career changers to gain industry experience without having to commit to a full-time position.
The company pays organizers $20 per hour for their first three months in the role, but if organizers stay on longer they receive a pay bump and the option to work more hours despite remaining contractors. People First promotes many to senior organizers or to other roles.
Cheney is one. She started in 2020 as a DRO fellow and since then, she's been promoted three times.
"I was working as a contractor for about 12 or 13 months and I was promoted. I was extended a full-time offer," she said.
According to company leadership, 14 of its full-time employees came through the DRO fellowship and fill various roles from tech director to HR manager.
As an organizing manager, Cheney oversees one of People First's largest departments. She's also central to selecting DRO interviewees from the applicant pool and fielding interviews with the prospective fellows.
The interview process, Cheney said, is relaxed. Those who don't have marketing backgrounds should be prepared to talk about their favorite or least favorite marketing campaigns.
Once selected, fellows begin their roles they receive a comprehensive training and a 10-page onboarding manual that includes tips and tricks to succeed in the role, influencer recruitment strategies or information on People First software and programs.
TLDR: Check out program details, including how to apply, in our Q&A with People First below:
When did People First found the program?
January 2019.
How many classes of fellows do you welcome each year?
Approximately 20 a year come through the program.
How long does the program run for?
Three months, although many organizers stay on as senior organizers or in other capacities.
What does the program pay?

The fellowship pays $20 an hour for 20 hours a week. After three months, if organizers stay on they are given a raise and promotional opportunities.

How many fellows/interns do you hire or plan to hire for each class?

3-6 people.
What percentage of your most recent class of DRO fellows are historically underrepresented?

Our last two classes were made of 10 people total. Of that, 7 are women and 8 are BIPOC/AAPI.
Is a college degree required to apply?

No, many fellows are currently in school.
How long is the application process from start to finish?
Once we open up a class, the selection process takes 2-3 weeks.
What do you require from applicants as part of the hiring process?

An application and a panel interview that includes staff who have been through the fellowship.
What percentage of your fellows/interns receive full-time offers by the end of your program?
14 of our full-time employees have come through the fellowship—they now hold various roles and some in leadership, including: Tech director, organizing manager, HR manager, operations director and account manager.
When are you hiring your next class of fellows?
We will be hiring again towards the end of summer or the beginning of fall.
You can apply for the DRO fellowship on the People First website.
Is there a program you would like us to know about? Please reach out to olivia.morley@adweek.com and tell us more.