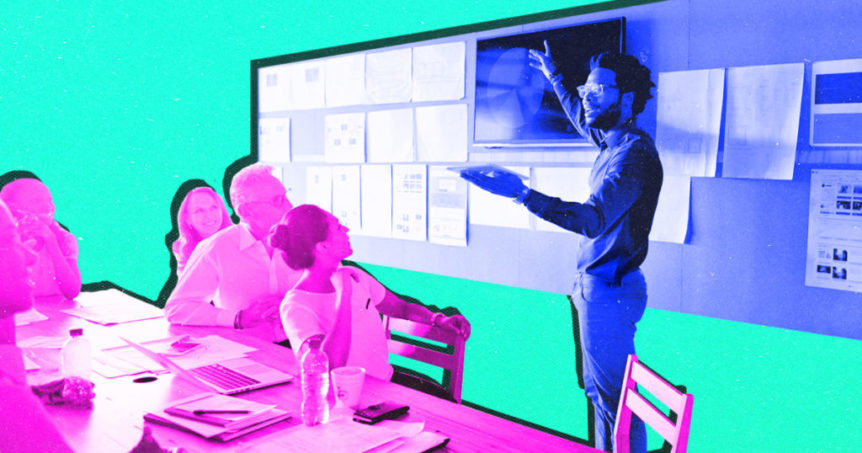 This is part of Adweek's series covering fellowship programs at agencies. As agencies continue to face a talent crunch, many recent graduates or career changers are seeking a way into the industry. Here, we cover programs for entry-level marketers at top agencies.
The creative production agency Hook's semester-long Sandbox U program offers one-on-one virtual mentorship opportunities for undergraduate students. The agency also has a year-long partnership with Los Angeles-based Hamilton High School's Communication Arts Academy.
Hook's undergraduate cohorts are comprised of 10 students, whereas the larger high school program welcomes 50.
Hook has a history of supporting mentorship programs, formalizing it with Sandbox U's 2020 launch. It's an unpaid program and doesn't promise students a job upon their college graduation, but it does pair them up with mentors that can help them develop a creative portfolio and navigate future hiring processes.
To execute a separate program for high school students, it partners with Leila Lujan, an Alexander Hamilton High School faculty member who oversees the Sandbox program at the school's Communication Arts Academy. Sophomores enrolled in an introductory design class and senior ad design capstone class need not apply for the program, since Hook partners directly with Hamilton High faculty and admits them automatically.
"I actually have students that say, 'Oh, I can do this as a career. I can start to pursue this potentially after high school,'" said Lujan.
Raniah Al-Obaidi, a former mentee and current Hook designer, was a student at the Savannah College of Art and Design when she applied to Sandbox U. She joined the undergraduate program because she sought mentorship. The agency paired her with its executive director of design, who worked with her on internal education projects like a Kettle Chips rebranding initiative. 
"Having the ability to design something that was outside of school was really important to me because I wanted to see where my creativity could go," she told Adweek. "I graduated this year and I was able to get a job at Hook because of the mentorship program two years ago," Al-Obaidi said.
Hook encourages interested undergraduate students to apply and has eschewed its portfolio and resume requirements. "It's more based on the passion, and we have some questions for everyone to answer," said Alexandra Blum, people operations manager at Hook.
TLDR: Check out program details, including how to apply, in our Q&A with Hook below. Responses have been lightly edited for clarity and style.
When did Hook found the program?
2020.
How many cohorts do you welcome each year?
Each year, we welcome up to 10 undergraduate students for individual mentorship. Our high school program welcomes  50 students.
How long does the program run for?
The college mentorship program runs over the course of one semester (either spring or fall). The high school program runs the entire academic year (spring, fall and summer semesters).
What does the program pay?
The Sandbox programs are currently unpaid. The partnership with Hamilton High School helps fulfill the academy's grant requirements.
How many fellows do you hire or plan to hire for each class?
For Sandbox U, it is anywhere between 5-15 mentees per academic year. For our partnership with Hamilton High School, there are approximately 50 high school students each year.
What percentage of your most recent cohort is historically underrepresented?
In its first year, the Sandbox U program was over 56% women. More than 90% of our high school students come from historically underrepresented communities, with young women making up 33% of the capstone class.
Is a college degree required for your program?
No.
How long is the application process from start to finish?
To apply for Sandbox U, applicants should plan on a 20-30 minute online application process which is free. The application process for the high school is currently administered through Hamilton High.
What do you require from applicants as part of the hiring process?
Sandbox U applicants submit an application online and answer short-form questions. No resume or portfolio is required and application is free.
What percentage of your fellows receive full-time offers by the end of your program?
We've hired one student since we launched the program, but we eagerly look forward to boosting that number following the 2022-2023 academic year.
When are you hiring your next class of fellows? 
Monitor Hook's job board for the spring 2023 application.
Those interested can view more information on Sandbox U and the Hamilton high school program, including Hamilton High School student testimonials.
Is there a program you would like us to know about? Please reach out to olivia.morley@adweek.com and complete our survey to tell us more.