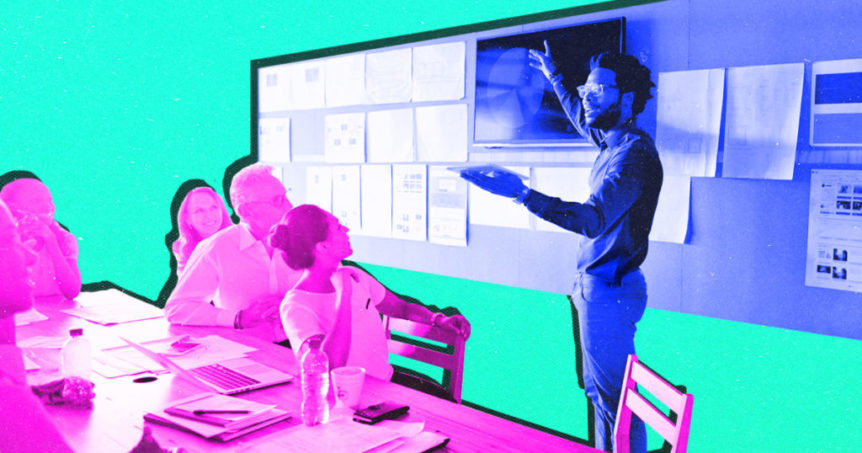 This is part of Adweek's series covering fellowship programs at agencies. As agencies continue to face a talent crunch, many recent graduates or career changers are seeking a way into the industry. Here, we cover programs for entry-level marketers at top agencies. Read the full series.
Creative agency Elephant's XD Academy is a free educational program designed for those associated with the 4A's Multicultural Advertising Intern Program (MAIP). This year's virtual academy sessions will open in early April.
The XD Academy is a good fit for those interested in experiential design, but also offers learning opportunites for aspiring copywriters, strategists and visual designers.
"We really wanted to do something that was designed to sort of be a taster and give you some hands-on skills," said Chris May, chief creative officer, Elephant.
This year, the program consists of several open sessions spanning Elephant's core service offerings. Session topics include design research, user experience, visual design, motion prototyping, storytelling and presentations, and career pathing. This year, for the first time, sessions are open to an unlimited number of participants.
Previous XD Academy sessions admitted just 10 to 12 students from an applicant pool. Despite the new open format, MAIP fellows looking for more hands on guidance must register for XD Academy workshops that still limit attendance.
During her time in the program, Zanah Maggio, now a junior strategist at Movers+Shakers, learned how to effectively research and prototype.
Maggio also worked within a small-group to prepare a final project, which her group presented to their broader cohort and academy instructors.
"When I started the program, I knew nothing about experience design, but I love thinking about how pages and apps are laid out visually for people. It was really interesting to hear about hierarchies and how design plays into that," Maggio said.
At 50 years old, the MAIP is one of the advertising industry's oldest programs. Its fellows are either undergraduate juniors or seniors, or enrolled in graduate school. They must also identify as Asian/Asian American, Native Hawaiian or Pacific Islander, Hispanic/Latinx, Black/African American, American Indian or Alaska Native, Multiracial or Multiethnic (e.g. Hispanic and Black).
The MAIP helps many of its fellows find their first full-time job.
For now, the program at Elephant will remain purely educational, May said, to avoid creating a competitive element that could detract from the academy's goals.
Hiring students, "would be a hope and a dream of future courses," he said.
TLDR: Check out program details, including how to apply, in our Q&A with Elephant below. Responses have been lightly edited for clarity and style.
When did Elephant found the program?
2020.
How many cohorts do you welcome each year?
Anyone may join the XD Academy's open sessions. However, program workshops are open only to MAIP fellows, who must register to attend.
How long does the program run?
The XD Academy is a four week, part-time virtual boot camp designed to teach the core skills and foundations of digital product design.
Does the program pay?

The Elephant XD Academy is a free educational program for those interested in learning the fundamentals of experience design–not an internship or apprentice program. It's an inclusive program—there is no need to be a designer. We recognize that experience design is a foundational element of any modern business and an important skill for anyone interested in entering the creative industry.
What percentage of Elephant's most recent cohort are historically underrepresented?
100%. The program is focused on BIPOC talent (sourced through Elephant's partnership with 4A's MAIP) who have an interest in our field, but limited exposure to it; they are either students enrolled in higher education or people on their own unique career journey.
Is a college degree required for this program?

A college degree is not required. In fact, many of our XD Academy students are enrolled in a college or university and augment their studies with the academy.
When can prospective students sign up for XD Academy open sessions?

Elephant will publish more information, including guidance on how to register, on its website on March 17.
Is there a program you would like us to know about? Please reach out to olivia.morley@adweek.com and complete our survey to tell us more.