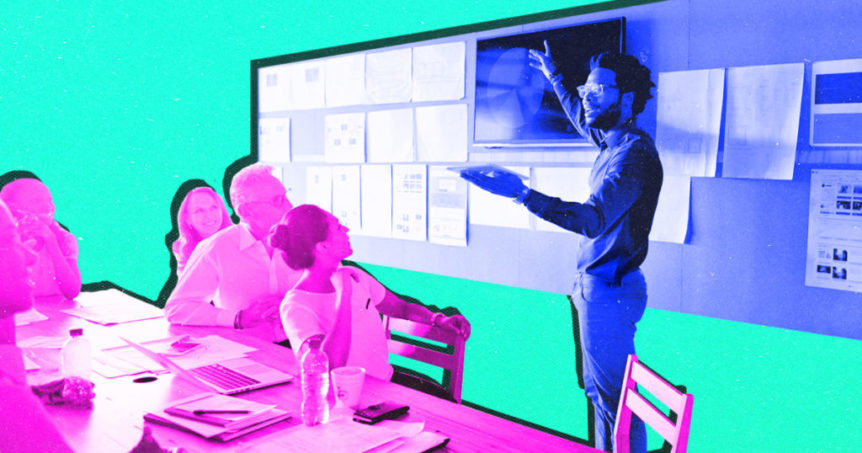 This story is part of Adweek's new series covering fellowship programs at agencies. As agencies continue to face a talent crunch, many recent graduates or career changers are seeking a way into the industry. In this series, we cover programs for entry-level marketers at top agencies.
Today, Dentsu announced The Media Experience, its eight-week long media apprenticeship program that spans across U.S. Dentsu Media agencies Carat, Dentsu X and iProspect and will include three cohorts this year. Dentsu plans to hire over 200 employees each year via the new program.
Created to remove barriers to enter the advertising industry, the program welcomes applicants from diverse backgrounds and experiences, including recent graduates, military veterans, career changers and people reentering the workforce.
A small but growing number of large agencies are removing college degrees from similar programs' hiring requirements, and Dentsu is one, though it's still rare that agencies forego the prerequisite.
"You don't need a college degree to work in advertising. With The Media Experience, we're opening the door for different kinds of talent to join us at Dentsu and learn the skills necessary to succeed in media careers through on the job training. We're excited to help future-proof talent pipelines, not only for Dentsu's media agencies but for our industry, in ways like never before," said Doug Rozen, CEO of Denstu Media, Americas in a statement.
The agency piloted the program last year and its first cohort is currently in progress. It includes employees with and without college degrees, some with internship experience and others who realized an interest in media while working in other fields, from hospitality to IT and retail.
To make the interviewing process more streamlined and equitable, program recruiters have been trained to ask questions that evaluate candidates' potential instead of their technical skills.
"I think internships are typically the way that a lot of people get access to advertising careers. Internships are nice, but they're typically biased in the sense that they're based on connections," Rozen told Adweek. "I think this type of apprenticeship program removes that bias and allows us to attract more diverse more open, inclusive pathways for talent."
The program is split into two four-week sections. The Dentsu team decided on this format following the 2021 pilot.
In the first four weeks, employees will get comprehensive industry training before they are aligned in the final four weeks with a specific vocation, whether that is strategy, buying or something else. They'll learn how to execute in the role through hands-on account experience.
"What we almost spent too much time on [during the pilot], is on the vocational or second part, without setting the table and understanding the importance of media basics training and understanding of the industry," Rozen said.
Employees can utilize Dentsu's on-demand media training—Dentsu University—and earn certifications through Dentsu partners Google, The Trade Desk and Microsoft.
"At the end, you are aligned to an open role that we have on an existing client," said Rozen.
TLDR: Check out program details, including how to apply, in our Q&A with Dentsu below.
How many cohorts do you welcome each year?
Dentsu will host three cohorts in 2022 and plans to continue the program in 2023 and beyond, with the aim of hiring 200-plus new employees a year via The Media Experience.
How long does The Media Experience run for?
The eight-week apprenticeship helps fast-track careers in media and begins with four weeks of media basics training, learning the industry, the Dentsu organization and developing power skills like emotional intelligence, time management, communication and succeeding in a hybrid work environment. The second four weeks consist of bespoke training in role-specific capabilities, including on-demand training via Dentsu University and training and certifications with partners like Google, The Trade Desk and Microsoft. To foster a sense of belonging, cohorts travel through the program together and participate in team-building sessions including social activities, small group mentorship and special events hosted by Dentsu senior leadership.
What does your program pay, and do employees receive benefits?
The Media Experience apprentices are salaried, non-exempt (paid for any overtime worked) employees and are eligible for Dentsu's great health benefits and perks such as holidays and paid time off, retirement savings, family leave and more.
How many employees do you hire or plan to hire for each class?
Dentsu's current cohort includes approximately two dozen employees.
What percentage of your most recent class of program employees are historically underrepresented?
Because we are in our first cohort, we don't have a large enough data set to report on yet, but the goal of the program is to attract talent from diverse backgrounds, experiences and career journeys.
Is a college degree required to apply for The Media Experience?
No. The Media Experience opens the aperture for talent without technical or vocational expertise to join the advertising industry while meeting business needs, welcoming newcomers from diverse pipelines including parents re-entering the workforce, military veterans, those in other industries looking to pivot to media, recent college graduates and those without college degrees.
How long is the application process from start to finish?
On average, the application and interview process takes 10-14 days.
What do applicants need to prepare as part of the hiring process?

The Media Experience applicants face a reimagined interview process focused on identifying candidates who have a history of accomplishment, show potential and are eager to enter the industry and learn. A pool of qualified Dentsu Media interviewers, including HR and team leads, have been retrained to ask specific questions that gauge for potential, rather than skillset competency, intentionally removing bias from the process. Prior to interviews, candidates are provided information on our end-to-end interview process and tips to prepare for success. Interviews are completed by a pre-selected and trained Media Experience Interview Team who understand the program's objectives, are aware of the candidate requirements and commit to self-awareness and inclusivity during the interview process. Candidates meet with two interviewers for 45-60 minutes each for deeper discussion and interviewers submit their assessments to recruiters immediately after the interviews.
What percentage of your cohort receives full-time offers by the end of your program?
All apprentices have the opportunity to stay on as full-time employees, pending successful completion of the program. The Media Experience provides hands-on industry and vocational training and onboarding into full-time openings on existing client teams, working across media planning, paid search, investment and programmatic on existing client teams.
When are you hiring your next cohort?
We accept applications on a rolling basis. To be considered for our next cohort, kicking off in July, applications should be submitted by May 31.
You can apply for The Media Experience here.
Is there a program you would like us to know about? Please reach out to olivia.morley@adweek.com and tell us more. Do you want to share information about your agency's program? You can answer our questions here.