> Dec. 17: Dobbs' #'s rise 23 percent in one year


> Dec. 4: Doc Block boosts ratings for MSNBC


> Nov. 8: On election night, CNN tops FNC in demo; it wins the next day too, but then the ratings settle down


> Nov. 8: Compared to 2002 midterms, all the cablers report ratings increases

> Nov. 3: MSNBC is breathing down CNN's neck in the demo in primetime; still true in Dec.


> Nov. 2: "Fox News is showing serious signs of aging"


> Oct. 31: FNC's historic 250th week at #1


> Oct. 31: CNBC's highest biz day ratings in 30 months


> Oct. 4: Countdown's ratings are rising


> Sep. 26: In Q3, CNBC demos up 83 percent in Business Day


> Sep. 26: CNN says the demo gap between it and FNC "continues to narrow"


> Sep. 12: MSNBC reairs 9/11/01 coverage on the 5th anniversary, and it's #1 in the demo


> Sep. 2: FNC's summer prime ratings down 24 percent compared to '05


> Aug. 30: For one month, Hannity & Colmes is #1 in the demo


> Aug. 24: CNN's bin Laden documentary attracts two million viewers, beats FNC in the demo


> Aug. 3: O'Reilly: "In July, Fox News was the fifth-highest rated cable network in the country. CNN was 24th, MSNBC 36th, right behind the Japanese movie channel"

> Aug. 2: Glenn Beck is gaining some traction


> Aug. 2: Despite conflict, FNC still doubles CNN in primetime


> Jul. 31: Middle East conflict causes ratings spike, especially for CNN


> Jul. 31: Cable viewership is in a "stagnant period," Pew says


> Jul. 24: A car chase makes HLN #1 (for an hour)


> Jul. 6: CNN tops FNC during NK missile launch coverage


> Jul. 6: Olbermann beats O'Reilly in demo for 15 minutes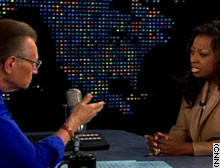 > Jun. 30: Larry King's interview with Star Jones delivers 3 million viewers


> Jun. 27: In Q2, every FNC program loses viewers


> Jun. 18: CNBC's ratings are "heading in the right direction" (but some shows are still scratching)


> May 31: Shep Smith's Fox Report has been #1 for 64 months


> May 31: Paula Zahn hits a new demo low; how low can she go?


> May 24: Wolf Blitzer sometimes beats John Gibson in the demo


> May 10: FNC's lowest-rated demo month since 2001; it's true for Bill O'Reilly too


> May 8: Is FNC's explosive growth "a relic from the first Bush term?"


> May 8: The average age of an FNC and CNN viewer is 60+. For HLN, it's 59.9; for MSNBC, it's 57


> May 2: Deal or No Deal repeats boost CNBC primetime

> May 2: Lou Dobbs' ratings are rising


> Mar. 29: Michael Eisner's CNBC show is a dud, but CNBC doesn't care


> Mar. 28: "MSNBC's first quarterly primetime victory over CNN in the demo in almost five years"


> Mar. 20: More than a trend: MSNBC challenging CNN from 6 to 9pm


> Mar. 13: Cable viewership up slightly in '05, PEJ finds


> Feb. 21: MSNBC and CNBC #'s triple thanks to Olympics; NBC wishes business news was as popular as curling


> Feb. 16: At 7 and 8pm, MSNBC beats CNN in the demo for 8 straight days


> Feb. 13: Good signs for CNN in the demo


> Feb. 1: FNC has 6.4 million viewers for SOTU; CNN has 2.2 million


> Jan. 30: MSNBC tops CNN in the demo a few times


> Jan. 18: A whole weekend of 0.0's for CNBC


> Jan. 16: Anderson Cooper may not have more viewers than Aaron Brown did, but they're younger now; later, more proof


> Jan. 10: FNC has three times as many viewers as CNN for the Alito hearings
Comments