Have you ever wondered how much time Les Miserables author Victor Hugo spent sleeping? Or how many hours 1Q84 author Haruki Murakami devotes to writing?
Podio has created an infographic called, "The Daily Routines of Famous Creative People." The image (embedded below) shows the day-to-day schedules of 26 famous creative professionals including Lolita author Vladimir Nabokov, Slaughterhouse-Five author Kurt Vonnegut, and I Know Why the Caged Bird Sings author Maya Angelou.
Here's more from The Huffington Post: "Whether we're working on our latest novels, paintings or compositions and stuck in ruts, or we're novices to the creative workspace entirely, we can all benefit from seeing how Charles Dickens, Pablo Picasso, and Mozart spent their days — even if it is just for fun."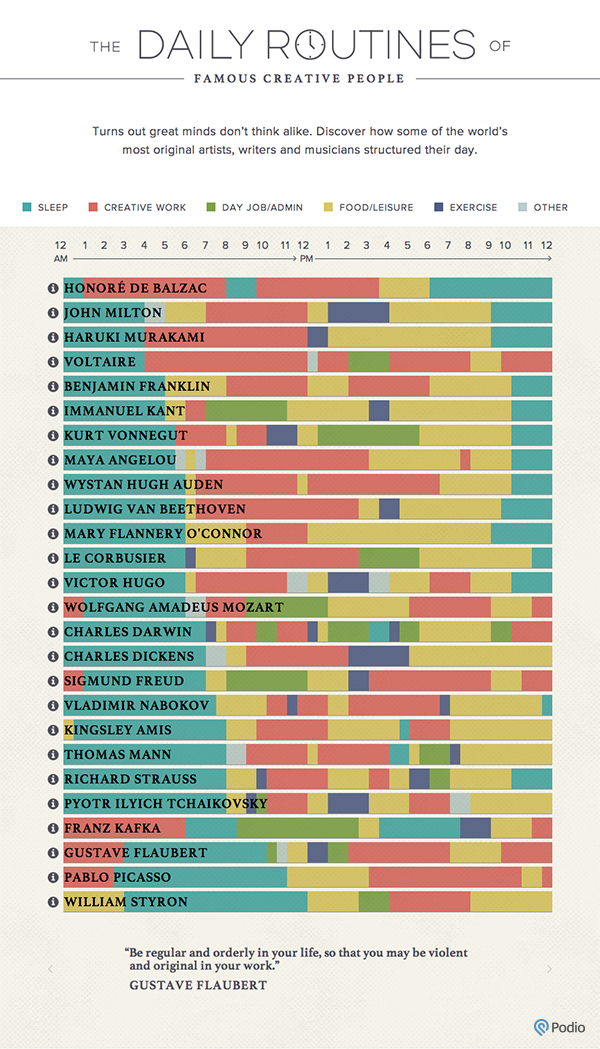 Want to develop a better work routine? Discover how some of the world's greatest minds organized their days.
Click image to see the interactive version (via Podio).