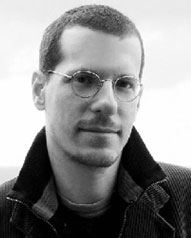 Children's author and illustrator Brian Selznick (pictured, via) will release his new novel, Wonderstruck, in September 2011.
Here's more from Scholastic's  press release: "Wonderstruck weaves together two compelling, independent stories, set fifty years apart—Ben's story, which takes place in 1977, is told in words; Rose's story in 1927 is told in pictures. Ever since his mother died, Ben feels lost. At home with her father, Rose feels alone. When Ben finds a mysterious clue hidden in his mother's room, and when a tempting opportunity presents itself to Rose, both children risk everything to find what's missing."
In 2007 Selznick released The Invention of Hugo Cabret, a 553-page novel containing 284 illustrations. He described the book in a letter: "not a exactly a novel, not quite a picture book, not really a graphic novel, or a flip book or a movie, but a combination of all these things."
Selznick credited his love of museums as one of the inspirations for Wonderstruck. The book will be available in hardcover and will include several original drawings within its 460 pages.  Last summer, GalleyCat readers named Hugo Cabret as one of the best YA books for adults.