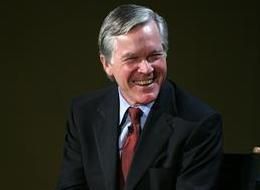 As time goes by, we can all expect more details to emerge regarding why Bill Keller stepped down. Some of the details will be interesting, some of them won't be. It's our job to sort through it and to tell you when something worth discussing comes along. Or, to quote one of FishbowlNY's favorite movies, "Certain things have come to light, man."
One of the more notable items that has come out is that Keller's hate-hate relationship with Arianna Huffington and Twitter apparently ruffled some New York Times writers so much, they held an intervention. Daily Intel reports:
Keller's columns infuriated some members of the newsroom, especially the Times' media desk, who felt that the executive editor should be a kind of impartial honest broker. Times media editor Bruce Headlam and media columnist David Carr had an intervention with Keller to explain how his columns were hurting their ability to cover the industry.
We always wondered how Keller's new media criticisms played out amongst the Times staffers who covered that subject, and now we know.
Sadly, the story doesn't get juicier. Keller explains that he wasn't trying to make any of their lives tougher, and that his columns sparked a debate, which is actually a good thing. Professionals can be so boring sometimes.