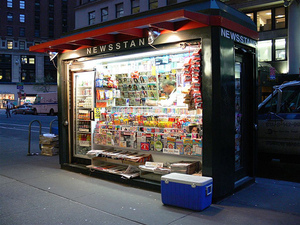 We know a lot of you are probably already off of work, enjoying your fancy "Summer Fridays," but we're still here dammit. So listen up! Or read up, whatever.
Yesterday FishbowlNY told you that newspapers sales were down almost 10 percent for Q1, and today – on a Friday no less – we've got more bad news. According to Folio:, magazine newsstand sales were down as well, by about six percent. The decline by the numbers:
Sales for the quarter totaled $987 million, down almost 6 percent from same period last year, which recorded just over $1.04 billion in retail sales.
Folio: says that high gas prices were likely behind the slump, and notes that the recent big news cycle (bin Laden, Royal Wedding) will probably pick things up for Q2.