If you're a fan of autoscheduling your tweets, a la Buffer (and you should be, young ninja), you're going to go bananas over the new HootSuite autoscheduling option.
Oh, and you can now scroll and link to tweets from TweetDeck. Just smile politely and read on.

So what the Hootlet is THIS about? Well, HootSuite now offers AutoSchedule.
AutoSchedule – a powerful new link share tool that determines the optimal time to schedule social media messaging. Now you can automatically queue messages throughout the day to maintain a consistent social media presence.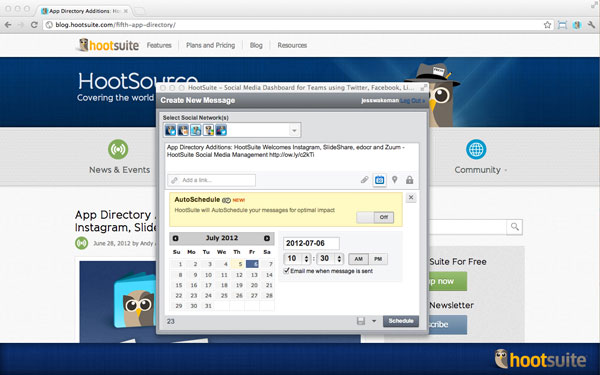 And if you're using Chrome (and again, you should be), you can also "select and share specific text and images found on websites via Hootlet."
And you can also use it on Firefox or as a Bookmarklet (whatever THAT is – get Chrome).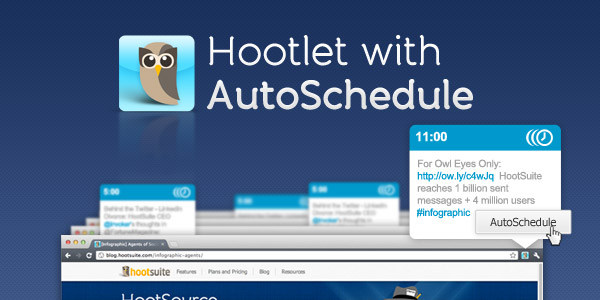 HootSuite CEO, Ryan Holmes on AutoSchedule:
"It's really quite simple – instead of our users manually selecting what time they want to schedule or post their social media messages using our Scheduling feature, they can opt to use our new AutoSchedule technology to optimize and automate the scheduling process. It's as if we've added a little helper owl to our Hootlet. We want our users spending more time finding and sharing content and less time worrying about the best time of day to share it."
Why, thank you, Sir Holmes.
Now for Tweetdeck.
Announcing they've provided "new navigation features," Twitter's blog details this new and improved "swifter tweetdeck." Here's an overview of what's changed:
The "columns" thingy is nice, but is pretty unnecessary and hardly worth announcing, unless you have like 60 columns you could just scroll over with ease. But, okay.
The cool new item form TweetDeck is "create link," allowing you to embed a link to a tweet in your own tweet. The rest of the "actions" are nice, but nothing earth shattering, in my opinion. Yes, emailing a tweet is nice, but when I want to email stuff from Twitter, I want to email a stream of tweets, a whole conversation, so I'd use Tweetbot or something, not this.
So, looks like another disappointing announcement from Twitter.
Nice try, TweetDeck. But it looks like HooteSuite wins again!
Tell us – what do you think of these updates?
(Happy/sad image from Shutterstock)