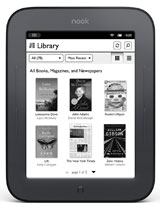 Kovid Goyal has just posted the weekly update for calibre, the open source ebook management tool, and he's worked his usual magic.
Today's update adds support for several more eBookstores, a number of minor feature tweaks, several bug fixes, and one important feature. Calibre now supports the Nook Touch. It was announced on Tuesday and he adds support by Friday. Yes, Kovid does work that fast.
Calibre is the leading eBook and eReader management tool, and that's not the usual marketing nonsense. It supports conversion from and to a wide variety of eBook formats. It will also assist you in organizing your eBook library and transferring your eBooks to your eReader (almost all are supported).