A powerful new animated PSA seeks to fight insidious forms of abuse in teen relationships using a classic song, "Walkin' on Sunshine" by Katrina and the Waves.
The irrepressibly upbeat song serves as a perfect foil for a 2:43 minute video that follows the course of a head-over-heels romance that quickly deteriorates into a nightmare.
Day One, a nonprofit dedicated to combating sexual abuse and supporting its victims, created the clip, titled "Sunshine," with BBDO New York and director Guilherme Marcondes. It features engrossing visuals that bring to life a teen girl's emotional journey as she's swept up in the new relationship, and then as it spirals out.
Woven into the happier portions at the outset are subtle warning signs that her Romeo might have some deep flaws. It turns out he's not just a preening narcissist. He's controlling, possessive and violently jealous.
The point is to highlight that not all forms of abuse are physical. Emotional and verbal abuse count, too. The impact of that warning is maximized through the deft integration of surreal elements, like shadowy tentacles that sprout from the boyfriend's back when he's storming off after spilling a drink on himself—and blaming the girl for it. Later, the tendrils return, to pull her further into a dark underworld.
The fantastical elements also serve to play up the idea that gaslighting can be a common issue in such relationships, leaving victims questioning their reality, and whether they are even being abused.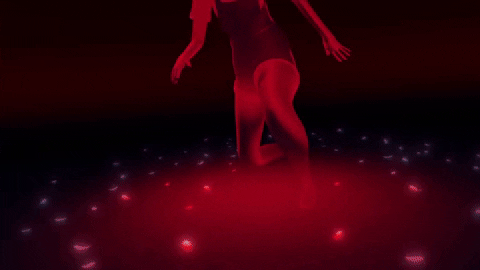 In the end, though, the ad feels more like an actual music video, with a powerful—and useful—message, than like a scolding or doomsaying PSA. That lighthearted but honest—and substantive—approach hopefully might help it actually get through to its intended target, kids ages 16-19.
One in three teens report experiencing some kind of abuse in their romantic relationships, according to Day One. The organization is promoting the video in the lead up to Valentine's Day, seeking to capitalize on increased interest around relationships.
CREDITS
Client: Day One
Spot: "Sunshine"
Agency: BBDO New York
Chief Creative Officer, Worldwide: David Lubars
Chief Creative Officer, New York: Greg Hahn
Head of Production, New York: David Rolfe
Executive Creative Director: Danilo Boer
Executive Creative Director: Marcos Kotlhar
Associate Creative Director: Bianca Guimaraes
Creative Director: Kevin Mulroy
Executive Producer: Sofia Handler
Junior Producer: Molly Ross
Director of Music: Rani Vaz
Assistant Account Executive: Byant Lim
Influencer Managers: Lucy Bennett & Sami Kriegstein
Animation: LOBO
Executive Producer: Luis Ribeiro, Alberto Lopes, Sergio Salles
Global Head of Production: Loic François Marie Dubois
Creative Director: Mateus de Paula Santos
Director: Guilherme Marcondes
Producer: Aron Matschulat Aguiar
Coordinators: Michelle Vinotti, Clara Morelli
Production Assistants: Gabriela Leal, Lorenzo Di Pace
Art Director: Felipe Jornada
Concept Artists: João Lavieri, Felipe Jornada, Rômulo de Oliveira, Wilson Panassi
Storyboard: Antonio Soares Neto, Vinicius Barros
CG Director: Olavo Chagas
Modelling: Milton Dias, Frederico Martins, Diego Esteves, Eiti Sato, Daniel Adami, Felipe Bassi,
Leo Rezende, Marcel Fukuwara
Lead Rigging: Flavio Castello
Rigging: Alexandre Marassa, Felipe Gimenes
Animation Supervisor: Leonardo Cadaval
Previs: Lucas Peres
Animators: Andrea Delfino, Bruno Carias, Bruno Hamzagic, Daniel Alvite, Daniel Bahia, Daniel
Vasconcellos, Janaina Bonacelli, Jorge Zagatto, Leonardo Cadaval, Marcelo Zanin, Marcio
Nicolosi, Raphael Vinicius Seixas Silva, Renato Sena, Rodrigo Souza, Ronaldo Brito, Ste Kajimoto,
Thiago Martins, Victor Fernandes
Lookdev & Render: Olavo Chagas, Milton Dias, Diego Esteves, Rafael Migliorini
Lead Compositor: Bruno Ferrari
Compositors: Diogo Girondi, Nara Andrade, Renato Trippi, Guilherme Sarinho
VFX: Lucas Stinguetti
VFX 2D: Fernando Chan
Editor: Aron Matschulat Aguiar
Assistant Editor: Eduardo Lopes
R&D: Giovanni Meneghel, Cláudia Fujiwara, Vedran Sinobad, Diana Naranjo Pomalaya
Technical Support: Cadu Penacchin, Weslley Oliveira, Mateus Ruiz
Audio Finishing: Sonic Union
Sound Mixer: Steve Rosen
Color Grade: Company 3
Colorist: Sofie Borup
Color Producer: Alexandra Lubrano