Adidas Originals boldly celebrates the creative spirit and its ability to break through demoralizing cycles of complacency in a dazzling new brand video. Developed by Johannes Leonardo, the 90-second spot resonates with thrilling sights and sounds, and packs plenty of star power.
Just don't expect a big finish.
That's because the spot, both inspired and propelled by Inaya Day's percussive club track "Keep Pushin," makes the point that true creators never really finish their work. Instead, they're constantly striving, stretching and challenging themselves, reimagining what's come before, never satisfied until their own unique visions spring to life.
Directed in dizzying, at times psychedelic style by Iconoclast's Manu Cossu, the cavalcade of quick-cut imagery begins with a young dude who symbolically rejects conformity and outmoded ideas. He walks over and kicks aside video monitors, their screens flashing scenes from old Adidas brand films. At the film's conclusion, a young woman kicks the monitors, indicating that a new cycle has begun.
Those sequences bookend a stunningly edited musical montage featuring hip-hop artist and sneakerhead A$AP Ferg, DJ Kaytranada, singer-songwriter Dua Lipa, baller Nick Young, rapper Playboi Carti and other global creators. As the beats build and the rhythm rises, they're depicted as an unstoppable force moving inexorably forward. They push past all obstacles to generate fresh content, tunes and fashion, never taking their eyes off the prize.
There's also a half-minute version that ratchets up the intensity.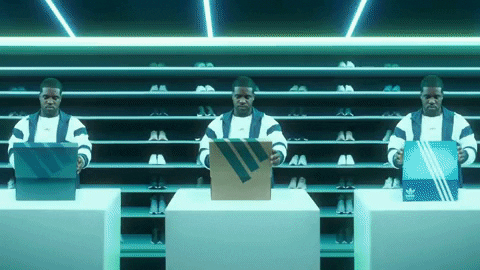 "We began the process with a focus specifically on music," Alegra O'Hare, vp of global communication at Adidas Originals, tells Adweek. "When we came across the track 'Keep Pushin' by Inaya Day, it really hit home for us. As a brand, we are always striving to push forward, challenging ourselves and the idea of the status quo. It was the title words 'Keep Pushin' that echo throughout the song that ultimately led us to explore the idea of repetition and the relation to complacency which stifles creativity."
Adidas and Johannes Leonardo have had great success focusing on music before. They took home the top music prize at Cannes last summer for their reimagining of Frank Sinatra's "My Way."
For the new spot, the team also drew inspiration from "a new generation of creators who believe that they are in a constant state of beta," says Johannes Leonardo creative director Matt Edwards. "It's this attitude of being noncomplacent that fuels these influencers of street culture. What feels like a life on loop is quickly replaced by the belief that repetition should lead to iteration. It's fine to do the same thing over and over, but it's crazy to think the results will differ. During the film we see through subtle art direction cues and wardrobe changes how each person propels their craft and themselves forward."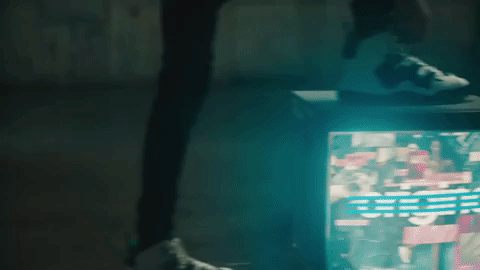 One example concerns the evolution of an Adidas product. The film's opening shots show the TV-screen-kicker wearing a vintage EQT 1993 basketball shoe. At the end of the commercial's metaphorical odyssey, the young woman who kicks the monitors wears the new EQT BASK ADV.
Of course, most viewers won't spot that detail. And they may scratch their heads over the sequence with folks ascending a shiny mountain of multicolored baubles and tchotchkes. Adidas tells us those are the "symbols of success," representing the notion that transcendence requires the rejection of validation.
Whatever. The spot's broader message still resonates, its assault on the senses vibrantly echoing today's nexus of music, technology, fashion and sports that drives innovation and commerce on an international scale.
"In order to create the effect we wanted for the visuals to match the narrative, we had to run the camera on a set path over and over again while our influencers performed," says Edwards. "Some of these set-ups were simple if the action was the simple—but some, like the skateboarding, were more intense. With a little bit of math, a lot of wishful thinking and a lengthy postproduction schedule, we were able to piece it all together."
All told, the crew filmed 17 hours of footage for the spot, which serves as a clever contrapuntal companion piece to the "My Way" epic, which traded in dystopian themes to impressive effect.
Given the brand's accent on originality, the team set out to craft a markedly different, though no less compelling/confounding experience, this time around.
"We couldn't try to bring our idea of constant progress to life if we ourselves were complacent and just did the same thing again," Edwards says.
CREDITS
Client: Adidas Originals
General Manager: Torben Schumacher
Global VP of Brand Communications: Alegra O'Hare
Global Senior Director of Communications & Brand Marketing: Jenny Pham
Global Director of Social Media & Public Relations: Silvia Calligher
Global Senior Manager Communications: Edi Borrelli
Global Communications Manager: Gemma Albi-Verdu
Senior Director, Global Brand Marketing Operations & Creative Shoot Production: John van Tuyll
Senior Shoot and Production Manager: Justin Townsend
Global Brand Management, Operations & Procurement: Andreas Hemmerlein
Shoot and Production Manager: Christian Wirth
Agency: Johannes Leonardo
Chief Creative Officer: Jan Jacobs
Chief Creative Officer: Leo Premutico
Creative Director, Founding Partner: Ferdinando Verderi
Creative Director: Wesley Phelan
Creative Director: Matthew Edwards
Senior Copywriter: Jeph Burton
Senior Art Director: Hunter Hampton
Head of Integrated Production: Dana May
Executive Producer: Maria Perez
Senior Producer: Tina Diep
Senior Producer: Craig Keppler
Associate Producer: Alexandra Olivo
Junior Producer: Maddie Tiedrich
Producer: Jay Jenkins
Producer (Shanghai): Joey Mok
Group Account Director: Sam McCallum
Account Director: Dominique Dalton
Account Supervisor: Gulru Soylu
Account Supervisor: Katherine Gutierrez
Account Executive: Adriana Mariella
Head of Strategy: Mark Aronson
Senior Strategist: Johnny Roelofs
Strategist: Miné Cakmak
Director of Business Affairs: Marta Stajek
Senior Business Affairs Manager: Ann Marie Turbitt
Social Agency: Annex88
Chief Creative Officer: Harry Bee
Brand Director: Sean Benz
Senior Account Director: Tyler Murphy
Account Manager: Alessandra Russo
Senior Creative: Nikki Mirsaeid
Senior Social Media Creative: Clement Balavoine
Producer: TJ Docena
Editor: Gian Buazulli
Editor: Christie Brown
Photography Retoucher: Renata Raksha
PR Agency: PR Consulting
Founder: Pierre Rougier
Partner: Sylvie Picquet-Damesme
Vice President: Matt Kays
Senior Digital Director: Parise Sellitti
Associate Director: Jordan Potter
Brand Films – Production & Post Production:
Production Company: Iconoclast
Director: Manu Cossu
Director of Photography (Los Angeles): Mattias Rudh
Director of Photography (Shanghai, Madrid, San Francisco): Alex Barber
Managing Director: Charles-Marie Anthonioz
Executive Producer: Valerie Romer
Producer: Suza Horvat
Production Service Company (Shanghai): Lunar Films
Executive Producer: Ken Yap
Producer: Terri Goh
Producer: Feng Zhe
Production Manager: Wang Wei
Production Service Company (Madrid): Widescope Production
Company Owner / Managing Partner: Marcos de Fortuny
Production Manager: Nestor Cano
Production Coordinator: Sara Valderas
Production Assistant: Flint Pearce
Editorial: Exile
Editor (Lead): Robert Lopuski
Additional Content Editor: Christopher Fetsch
Assistant Editor: Alex Doyle
Executive Producer: Sasha Hirschfeld
Producer: Alejandra Alarcon
Producer: Becca Riehl
Visual Effects: The Mill
VFX Supervisor / VFX Lead: Antoine Douadi
CD, Supervisor: Corey Brown
3D Lead: Ajit Menon
Senior Producer: Nick Strange Thye
Senior Producer: Bugs Russell
Associate Producer: Ashley Goodwin
Designs & Illustrations:
Not To Scale
The Art of Ginozko
Album Cover Illustrator: Matt Anderson
Color: Company 3
Colorist: Tom Poole
Color Producer: Alexandra Lubrano
Assistant: Jenny Montgomery
Music – "Keep Pushin"
Publisher: Warner
Publisher: BMG
Publisher: Mushroom Group
Writer: Mousse-Tee
Writer: Errol Rennalls
Writer: Boris Dlugosch
Writer: Jafan Davis
Music Supervision:
adidas Global Music Manager: Daniel Cross
Music – Remix: Human
Music and Remix: Human and Sibot of Say Thank You
Creative Lead / Composer / Remixer: Morgan Visconti
Creative Lead: Mike Jurasits
Composer / Remixer: Sibot of Say Thank You
Composer / Remixer: Matthew O'Malley
Executive Producer: James Dean Wells
Singer: Briana Nadeau
Singer: Moonchild Sanelly
Additional Orchestration of Franz Schubert's "Symphony No. 8 in B minor aka the Unfinished Symphony": Robert Gulya
Additional Vocal Production: John Christopher Barnes
Music Cut-Downs:
Music for A$AP Ferg – EQT (:15, :10, :06):
Creative Leads: Morgan Visconti & Mike Jurasits
Executive Producer: James Dean Wells
Composers/Remixers (EQT cutdowns only): Sibot of Say Thank You, Morgan Visconti, Matthew O'Malley
Singers: Briana Nadeau, Moonchild Sanelly
Music for Adrianne Ho (:15, :10, :06):
Creative Leads: Morgan Visconti & Mike Jurasits
Executive Producer: James Dean Wells
Artist Composer: Daryl Pinsdorf
Singer: Sam Kelser
Music for Dua Lipa (:15, :10, :06):
Creative Leads: Morgan Visconti & Mike Jurasits
Executive Producer: James Dean Wells
Artist Composer: JMB
Singers: Jessica Lee Morgan & Moonchild Sanelly
Music for EQT Product (:15):
Creative Leads: Morgan Visconti & Mike Jurasits
Executive Producer: James Dean Wells
Composers/Remixers (EQT cutdowns only): Sibot of Say Thank You, Morgan Visconti, Matthew O'Malley
Singers: Briana Nadeau, Moonchild Sanelly
Music for Florencia Galarza (:15, :06):
Creative Leads: Morgan Visconti & Mike Jurasits
Executive Producer: James Dean Wells
Artist Composer: Daryl Pinsdorf
Singer: Sam Kelser
Music for Kaytranada (:15, :06):
Creative Leads: Morgan Visconti & Mike Jurasits
Executive Producer: James Dean Wells
Artist Composer: Matthew O'Malley
Singer: Briana Nadeau
Music for Lu Han – EQT (:15, :06):
Creative Leads: Morgan Visconti & Mike Jurasits
Executive Producer: James Dean Wells
Composers/Remixers (EQT cutdowns only): Sibot of Say Thank You, Morgan Visconti, Matthew O'Malley
Singers: Briana Nadeau, Moonchild Sanelly
Music for Marcelo Vieira (:15, :10, :06):
Creative Leads: Morgan Visconti & Mike Jurasits
Executive Producer: James Dean Wells
Artist Composer: Matthew O'Malley
Singer: Briana Nadeau
Music for Miles Silvas (:15, :06):
Creative Leads: Morgan Visconti & Mike Jurasits
Executive Producer: James Dean Wells
Artist Composer: Matthew O'Malley
Singer: Jessica Lee Morgan
Music for Nick Young (:15):
Creative Leads: Morgan Visconti & Mike Jurasits
Executive Producer: James Dean Wells
Artist Composer: Matthew O'Malley
Singer: Briana Nadeau
Music for Playboi Carti (:15, :10, :06):
Creative Leads: Morgan Visconti & Mike Jurasits
Executive Producer: James Dean Wells
Artist Composer: Matthew O'Malley
Singer: Elisa Jo
Music for Prophere (:15, :06):
Creative Leads: Morgan Visconti & Mike Jurasits
Executive Producer: James Dean Wells
Artist Composer: Matthew O'Malley
Singer: Elisa Jo
Sound Design: Q Department
Executive Creative Director: Drazen Bosnjak
Creative Director: Zack Rice
Senior Producer: Guin Frehling
Sound Designer: Jean Baptiste Saint Pol
Sound Mix: Sonic Union
Mix Engineer: Steve Rosen
Mix Engineer: David Papa
Mix Engineer: Owen Shearer
Social Content – Production & Post Production:
Photographers:
Social Photographer (Los Angeles / Shanghai / Madrid / San Francisco): Atiba Jefferson
PR Photgrapher (Los Angeles): Blaise Cepis
Director of Photography (Shanghai / Madrid / San Fransisco): Daniel Duarte
Film Crew: Ways & Means
Director: Aaron Brown
First Assistant Director: Yvonne Wang
Director of Photography: Ryan Carmody
Sound Mixer: Marcos Contreras
Wardrobe Stylist: Emilie Periera
Prop Master: Ken Russel
Executive Producer: Lana Kim
Executive Producer: Jett Steiger
Producer: Taylor Vandergift
Production Manager: Brandon Robinson
Mixing & Sound Design:
Senior Producer: Emily Smith
Sound Engineer: Weston Fonger